Be a Clean Freak — or Just Look Like One!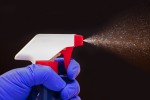 "Got a half hour to kill?  Use it to spruce up your house."  So begins a useful article from the March 24, 2012 edition of the Edmonton Journal entitled "Take time for a quick home spruce-up". 
Most of us want our homes in Spruce Grove, Stony Plain, Parkland County, the Edmonton region or elsewhere to look great, but often the chore of keeping them looking immaculate feels a little overwhelming.  This article suggests a number of quick touch-ups that will make your home look and feel a lot better, whether you are doing it for yourself or as part of staging your home for sale.
The author, Mary Beth Breckenridge, starts by suggesting a tour through every part of your home with notebook in hand and a critical eye.  Write down every single thing that isn't quite right.  You won't be fixing them during this walk-through but it will give you an idea of things, big and small, that should probably be attended to. 
Now, for a few fix-ups.  Breckenridge suggests not just polishing but actually touching up the woodwork of window and door frames, baseboards, etc. to cover up the scratches and dings of day-to-day wear.  Read the article for her product suggestions!  Chipped paint on walls can be given similar treatment.
Breckenridge recommends Mr. Clean Magic Eraser and Scrubbing Bubbles spray to get rid of smudges around light switches, door knobs and so on. 
And then there are the places where dust likes to accumulate but which we often ignore when we do our weekly cleaning ritual:  light fixtures (don't forget to dust the bulbs, and it's probably time to take apart and wash the chandelier over the dining room table) and fans (including fan blades and bathroom exhaust fans), the tops of doors, the crevices between the carpet edge and baseboards (use the crevice tool on your vacuum for this one).  Think high and low, as in ceilings and baseboards.
You won't be doing all of these things during one cleaning stint, but they make for a quick home brightener if tackled one by one, Breckenridge claims, and are not as time-consuming or onerous as one might think.   Read the full article for lots of good ideas to keep your home looking its best.
Got some great home maintenance tips to share?  Call or text me at 780-910-9669, email me at barry@barryt.ca, or contact me here.
Tags: cleaning, home improvement, home maintenance, home repair