Tuesday, February 25th, 2014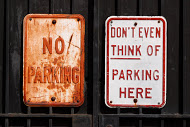 Edmonton is home to a number of fantastic neighbourhoods filled with great homes and many amenities. If you're planning on moving to areas like Stony Plain, Parkland County acreages, Spruce Grove, or any other area in the Edmonton region, it's important to learn as much as you can about the neighbourhood that you'll soon be calling home. One issue you might want to learn about is parking enforcement, especially in the winter when snow tends to take over the roads. If you want to avoid getting ticketed or towed on a regular basis, here is the low-down on winter parking regulations in Edmonton.
Edmonton Offers Blading Services to Clear Roadways
Those who own a piece of Edmonton real estate know how harsh winters can be. It doesn't take long before mounds of snow start covering the roads and walkways, making it tough not only to drive, but also to find a parking spot. The City of Edmonton offers a 24-hour ploughing operation for blading the streets. Every time a bus route or road has been fully bladed, the City informs residents. The city makes a new snow blading schedule after every major snowfall.
Windrows Take Up Parking Spaces and Create Parking Bans
Ploughing is necessary to clear the roadways and bus routes, but the end result is usually huge mounds of snow, called "windrows", sitting on the sides of the roads and in parking spaces. After the city clears the driving lanes, the next step is to widen the narrowed roadways. In order to do that, cars need to steer clear of parking along these roadways to make room for city workers to get rid of these windrows and open up this much needed space.
Seasonal Parking Ban During Winter
In order for city workers to be able to get rid of these massive snow piles on Edmonton city streets, a seasonal parking ban is placed on designated bus routes after a big snowfall. Residents will be notified at least 8 hours in advance through a news conference, radio announcement, postings on Twitter and Facebook, email messages, and on the City of Edmonton's Transportation webpage. Once this seasonal parking ban is in effect, cars that are parked where "Seasonal Parking Ban" signs are placed must be moved right away.
Targeted Parking Ban After Major Snowfall
A targeted parking ban is slightly different from a seasonal parking ban. These parking bans are put in effect in Edmonton areas only during times when specific roads need immediate ploughing. 'No Parking' signs will be temporarily placed on targeted routes 24 hours before the ploughs come out. This targeted parking ban will be enforced with tickets or towing if vehicles aren't moved between 7 AM and 7 PM.
Parking Tickets Issued During Winter Parking Ban
A parking ticket isn't the best to wake up to in the morning in your Edmonton home. Yet hundreds – if not thousands – of drivers get slapped with a ticket during every winter parking ban. The City of Edmonton does everything they can to get the message out there to motorists about the parking ban, including its schedule. But for those who don't comply, parking tickets and even car towing will be enforced. Parking enforcement usually comes in the form of a $50 ticket. If you don't move your illegally parked vehicle after a certain amount of time, it could be towed, at a further expense.
The winter parking regulations in Edmonton are just a fraction of what there is to know about this great city and its suburbs. I'm happy to help you sort through any queries you might have about Edmonton acreages, or any other real estate queries. Call or text me at 780-910-9669, email me at barry@barryt.ca, or contact me here.