Tuesday, April 20th, 2010
Learn Which Home Renovations Give You the Best Return
It's time to sell, and you want to get as much value from your Spruce Grove, Stony Plain, Parkland County or Edmonton area home as possible. What home improvements will make that happen?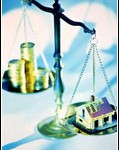 Most people buying a home want to move into a property that looks new. If you've been thinking of selling your home, you've probably heard the following advice. Before you put your home on the real estate market, make all necessary minor repairs. Fix that dripping faucet, oil that creaky kitchen cupboard hinge, tack down that loose carpet edge. Give your home a thorough cleaning inside and out. Wash the floors and walls (including the insides of all cupboards and closets), get the carpets cleaned, shine all the windows and mirrors, and, above all, get rid of clutter so that your home looks as spacious and welcoming as possible.
But these are mostly cosmetic touches, much like a woman's eye shadow and lipstick when she goes out for the evening. What if your property needs the real estate equivalent of Botox injections or, worse, open heart surgery to bring it back to its brand new appearance and structure? If you invest the money to do major repairs, such as reshingling the roof, or to do major updates, like remodeling that ugly old bathroom, will you get your money back through a higher selling price?
The truth is – maybe, but more likely not. Renovating just before you sell is a risky proposition. Any improvements you make to your property may make it more attractive to buyers which may result in a faster sale – or even determine whether it sells at all. You may get a higher selling price than you would have before the renovations. But it turns out that most renovations will not increase the value of the property by 100% of the retail cost of professionally done renovations, with a couple of exceptions.
Ergil & Jackson Appraisals Ltd. (formerly Henderson & Butt) in their Home Renovation Guide include an extensive list of renovations together with the approximate cost, and the possible returns on investment in both percentages and dollar amounts. Their calculations are based on a hypothetical 1200 square foot bungalow located in the city of Edmonton and hiring out the work.
According to this guide, most renovation projects, small or large, will net you a return of only 50 to 75% of your investment.
New cedar shake shingles for your roof? Expect to lay out between $10,400 and $18,200. The return? Anywhere from 50 to 70%, or $5,200 to $12,740. Depending on the condition of the roof, it might be better to simply disclose to prospective buyers that the roof needs repair.
You've probably heard that kitchens and bathrooms sell homes. A bathroom remodel, using standard quality new fixtures, flooring and ceramic tile, might set you back between $10,000 and $16,000. But you'll get that back when you sell, won't you? Not according to the guide, which says this type of renovation will bring you a return of just 60 to 80%, or between $6,000 and $12,800. Doesn't seem worth it, does it?
And it gets worse, with some renovations giving you as low as a 0 to 10% return (adding a skylight, installing an alarm system, putting in a garburator or air conditioning). Some renovations, such as adding a sauna or an outdoor hot tub or swimming pool, might even make your property harder to sell!
So which renovations are the best compromise between making your home look its best and giving you a high return on your investment? Improvements that give you a return of at least 70% include:
 Exterior siding of artificial masonry brick: 70 to 100%
New roof shingles (asphalt, rubber or metal): 70 to 90%
Average quality kitchen remodel: 70 to 85%
New furnace: 75 to 90%
In-suite laundry added to condominium: 95 to 100%
Electrical service upgrade: at least 90%
Garage: 70 to 100%
Saving the best for last:
There is one renovation that will give you your money back, and then some. Good old-fashioned paint, one of the easiest and cheapest renovation projects, especially if you do it yourself, could give you back up to 110% of your investment. Watch for painting instructions and tips in future blog entries.
Check out Ergil & Jackson's other suggestions and advice.
***A word of caution about renovations in general: Remember that, whether you hire someone or do it yourself, the finished product must always look as though a professional did the work. If you are thinking about renovating before you sell, talk to your realtor about the kind of return you can expect for all your hard work.
For more tips on selling your home, visit the Sellers Guide section of my website.
Comments or questions are always welcome! Email me at barry@barryt.ca, call me at 780-910-9669 or contact me here.