Friday, July 29th, 2011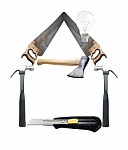 Most Canadians look forward to owning their own home, whether that's a house, a condo, or an acreage in Spruce Grove, Stony Plain, Parkland County, the Edmonton area or elsewhere.  In the excitement of taking possession of a new home, moving in and settling down in a new neighborhood, sometimes people forget they've taken on a long-term commitment to look after the property and protect the biggest investment most of us will ever make.  Owning a home is a lot of work!
With proper planning and good routines, maintaining a home need not be overwhelming.  The Canada Mortgage and Housing Corporation, CMHC, publishes numerous guides for homeowners.  Check out "Home Maintenance Schedule" for an extended season-by-season checklist of home maintenance tasks.  If you're like me, you're bound to find a few things on this list you might not have thought about.  For example, one suggestion is to remove the interior window screens in the fall to allow the circulation of air to keep condensation off the windows and to allow in more free solar heat.
Maintaining your home will make it safer, more attractive and more pleasant to live in.  But there's another very good reason not to neglect these routines.   Time and again in the real estate business, the houses that sell the fastest and for the best price are those houses that have been looked after the best.  When it comes time to sell your most valuable possession, you'll be glad you kept up the maintenance!
Thinking of selling your home?  I'd be happy to help you get it ready to put on the market.  Call me at 780-910-9669, email me at barry@barryt.ca, or contact me here.