Monday, December 22nd, 2014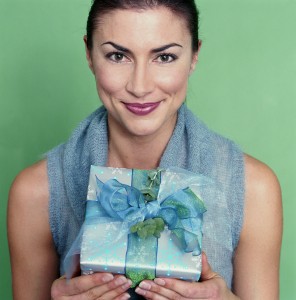 Well, maybe not quite 101, but a whole bunch anyway! If you're like me, you do a lot of visiting and hosting over the holidays, whether it's in our home area of Spruce Grove, Stony Plain, Parkland County, the Edmonton area or elsewhere, and you don't want to arrive empty-handed. But what are the best things to take as a thank you token for your host? On the list below are lots of things you've given in the past, but there may be a few things you haven't thought of! The cost of the item will be up to you. If you know your host well – a good friend or family member — then you may want your gift to be more extravagant and more personally attuned to the person's taste. Otherwise, we're looking for items generally under $20 and less personal in nature.
Beverages
wine, spirits, liqueurs, craft beers. A nice hostess gift for someone who likes to try different liqueurs is a half dozen mini bottles in a pretty basket.
special coffees, teas such as David's Tea, or gourmet hot chocolate mixes. Starbucks and Tim Horton's both package items especially for this time of year.
unique bottled beverages such as special bottled waters, or other drinks with unusual flavors (look in the international section of your favorite large grocery store).
High-quality chocolate
This year Purdy's Truffles retail at $14 per box, and this is a gift appreciated by pretty much everybody!
Specialty food items
If you know what your hosts like, treat them to a favorite item they wouldn't purchase for themselves – caviar, maybe!
Look for artisanal or craft items made by specialty producers in small quantities: special syrups or honey (Manuka honey is prized by many people); salts, spices or herb blends (Himalayan sea salt is trendy right now); pepper mill filled with fancy peppercorns; special barbecue or hot sauces; dips or spreads such as antipasto or jalapeno jelly (even better if you make them yourself!); gourmet olives; specialty pickles or jams (again, even better if homemade); special cooking oils or flavored vinegars; special popcorn or nuts or trail mix; biscotti.
Or put together a "gift in a jar":  a Mason jar filled with ingredients for cookies and the like, together with a recipe card, and beautifully decorated. Google "gifts in a jar" for tons of ideas.
A gift that seems mundane but I guarantee will be appreciated:  a super fresh loaf of bread hot from your own oven, or from Cobs Bread.
Hosting items
beautiful paper napkins or Christmas crackers
a pair of unusual placemats (made of twigs or bamboo, perhaps!)
dip servers or spreaders
stemless wineglasses (all the rage right now), or a set of unusual shot glasses
cheeseboard and slicer
cocktail shaker
coasters
cocktail picks
salad servers
pretty seasonal tray or dish
wine stoppers
wineglass charms
tapas trays (or other tiny serving dishes)
Kitchen things
cookie cutters or stamps
wooden or bamboo utensils
unusual gadgets that your hosts might appreciate but which they are unlikely to buy for themselves, such as a rasp grater or garlic rocker
specialty dishes and containers, like a garlic pot, olive serving dish, herb oil infuser, oil spray bottle, etc.
herb chopper or pizza cutter
crocheted dish cloths (a staple at our local farmers' markets!)
Check out all the kitchen gadgets at Canadian Tire, or get fancy with something from Gifts and Gadgets, or visit the Crooked Pot gallery in Stony Plain for one of a kind pottery items.
Book, calendar or pretty journal, music…
Take a look at online retailers such as Indigo for ideas.
Flowers / plants
Etiquette mavens suggest not bringing a loose bunch of flowers (because then your hostess has to find a vase, trim the flowers, etc.) so:
either put your flowers in a vase yourself,
or look instead for a small potted plant such as a colorful pepper plant,
or a tea garden or herb garden in a box. If you have a green thumb, consider making some yourself next summer; directions can be found online. Tea plants would include things like lemon verbena, mint, etc. A herb garden might include chives, basil, oregano, parsley, etc.
Special soaps
Lush Cosmetics will cut you a chunk, or look for pre-packaged soaps of all kinds at the Body Shop, Bath and Body Works, Spruce Grove's Gifts and Gadgets, and the like. Or make your own! Or pick up a pretty container of liquid hand soap for your hostess's kitchen sink.
A beautiful one of a kind Christmas tree ornament
Many gift shops, such as Gifts and Gadgets, carry items like this.
Photo frame
Practical gifts
microfiber cloths packaged with a natural cleaner, such as Green Works
pretty tea towels or apron or oven mitts (check out the Ove Glove at Canadian Tire!)
grocery carry bags made from heavy recycled plastic or cloth
miniature LED flashlights to hang on a keychain or tuck in a purse (see Amazon.ca for a selection)
I wasn't going to include candles or mugs in this list, but lots of people still like to receive them! (The Bay has a candle that looks just like its iconic Hudson's Bay blanket!)  Jazz up your gift of a special candle by adding a unique lighter or fancy matches. Fill a pretty or unusual or holiday-themed mug with candy or sachets of tea or hot chocolate or a Starbucks or Tim Horton's gift card.
Got other ideas for great hostess gifts? Call or text me at 780-910-9669, email me at barry@barryt.ca, or contact me here.