Thursday, December 5th, 2013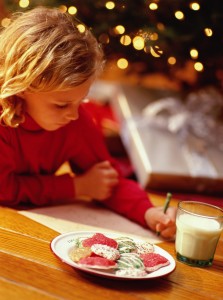 The Christmas and holiday season in Spruce Grove, Stony Plain, Parkland County and the Edmonton region is a big deal, but December 25 isn't the only day of giving and celebrating.  If your family embraces the traditions of other countries and cultures, there are plenty more opportunities for making merry during the festive season!
One of these special days occurs on December 6, the Feast of St. Nicholas.  In fact, the North American Santa Claus is based on St. Nicholas, or Sinterklaas, as he is known in Holland.  In France, children leave out their sabots, or wooden shoes, in hopes that St. Nicholas will throw little toys and sweets (and not lumps of coal) down the chimney to land in their shoes.
This is what The Old Farmer's Almanac has to say about St. Nicholas Day:
"In Holland, everyone celebrates the Feast of Sinterklaas, or St. Nicholas, on the eve of December 6.  After dinner, families hunt for presents, following clues in funny, anonymous poems.  They also eat cookies and candies, especially spicy Speculaas cookies formed in wooden molds shaped in the figure of St. Nick.
"Who was St. Nicholas?  His life, like the lives of many saints, is shrouded in mystery. We know that he was the bishop of Myra in Lycia, part of Asia Minor, during the 4th century.  He is credited with saving three sisters from lives of ill repute by throwing bags of gold into their house (some say down the chimney; others say through the window) to provide for their dowries.
"In many places in the United States and abroad, children still place their shoes by the window for St. Nicholas to fill with presents and sweets on the night before his feast day."
Holidays are, of course, all about the food!  Why not try making your own Speculaas to celebrate St. Nicholas Day?  The recipe below is courtesy of The Old Farmer's Almanac.  Click on the preceding link for recipes for many more holiday goodies.
Spicy Sinterklaas Cakes (Speculaas) Recipe
Press the dough for these cookies into a carved wooden mold, or roll out the dough and cut with cookie cutters.  Yield: Makes about 18 to 24 medium cutout cookies.
 1/3 cup packed dark-brown sugar
1 tablespoon milk
1 cup flour
1/2 teaspoon each powdered cloves and cinnamon
1/4 teaspoon each nutmeg and powdered ginger
1 pinch salt
1/4 teaspoon baking powder
1 tablespoon chopped blanched almonds
1 tablespoon minced candied fruit
5 tablespoons butter
large slivers of blanched almonds, for decoration
In a medium mixing bowl, combine the brown sugar and milk, and stir until smooth. Add the flour, spices, salt, baking powder, almonds, and fruit. Cut in the butter with a pastry blender. Chill. Preheat oven to 350° F. If using a wooden speculaas mold, dust it with cornstarch, covering every bit of carving. Firmly press the dough into the mold, then run a sharp knife along the edges of the design. Gently lift the dough or tap it onto a greased cookie sheet. Press almond slivers onto the cookies wherever they fit into the design. To make cutout cookies, roll the dough about 1/4 inch thick and cut with cookie cutters. Bake for 10 to 15 minutes. Let them cool and crisp on a rack.
I'd love to hear about and feature in this blog your own family and cultural traditions surrounding the holidays!  Call or text me at 780-910-9669, email me at barry@barryt.ca, or contact me here.