Thursday, June 6th, 2013
Sometimes the descriptions of homes for sale in Spruce Grove, Stony Plain, Parkland County and the Edmonton region make you wonder what kind of building you'll see on a property.  Bungalow with a bonus room?  How is that different from a 1 ½-storey house?  Raised bungalow?  How does that differ from a bi-level?  Searching Google to define house styles doesn't help much because the same term might have very different meanings elsewhere in Canada or the US. 
So, let's take a look at a few phrases commonly used to describe homes in the Edmonton region.  Note that the descriptions below assume that the homes have basements since that is generally the norm in Alberta. 
Bungalow:  A one-storey home whose basement has the same square footage as the main level.  Basement is reached from a full flight of stairs leading "below grade"; that is, dug into the ground.  Entry into the home is usually at ground level or up a few steps.  May have attached garage that leads directly into main level of the home, or sometimes into the basement.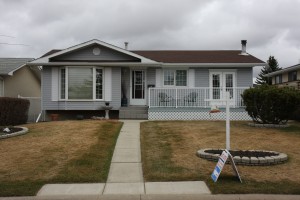 Raised Bungalow:  Same description as above (one-storey home, full basement reached via full flight of stairs, entry into home up a few steps from the ground), but these homes are built higher up on the land, allowing for larger basement windows and making them better for nanny or mother-in-law suites.  They are also less likely to take on water in the basement.
Hillside or Walkout Bungalow:  From the front this home looks like a standard bungalow.  From the back it resembles a 2-storey house – because it is literally built into a hillside, or a steeply sloped yard.  Very popular because the basement appears to be at, rather than below, ground level.  The basement therefore has much larger windows, and residents can access the outdoors without climbing stairs to the main level. 
Bungalow with Bonus Room:  Basic bungalow format with a single large room above an attached garage, reached via a full flight of stairs.
Bi-level:  Sits higher up on the land, like a raised bungalow, and has the same advantages as a raised bungalow.  Unlike a raised bungalow, the stairs inside a bi-level are split.  From the front entrance, a half-flight of stairs leads up to the living area, and a half-flight of stairs leads down to the basement.  The depth of the basement below the ground is less than that of a standard bungalow, allowing for bigger windows and less of a cellar-like feel.  The home's back door often exits onto a high deck with a full flight of stairs outside leading down to the yard.  This style has fallen out of fashion with builders, except in areas where digging a deeper basement would be problematic due to soil type.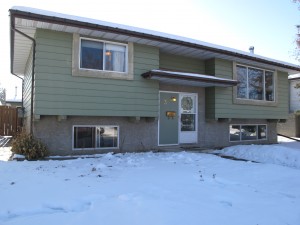 One and a half-storey:  Full flight of stairs goes up to bedroom area which has a steeply slanted roof with dormers, resulting in reduced head space in the slanted areas – thus, the "half-storey".  (Two and a half-storey homes exist as well.  Same principle but with two full levels having standard head room and the third with a slanted roof). 
Two-storey:  Main level has a full flight of stairs leading up to the second level and a full flight of stairs down to the basement.  Often built with bonus room above an attached garage.  The most common home being built these days for several reasons:
1) A home's square footage is determined by the amount of space above grade, and this home style puts more living space above ground on a smaller footprint than a bungalow of equal square footage;
2) Larger homes, ones with greater square footage but a smaller footprint, can be built on today's smaller lots;
3) Given today's high heating costs and concern for the environment, a 2-storey home is more energy- and cost-efficient.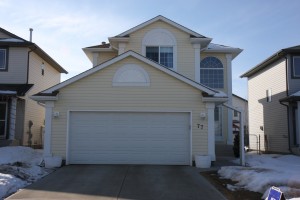 Split-level:  This home style was very popular around the 1970s.  Many people these days would say the reason it fell out of favor was that residents were always running up and down stairs to get to different rooms in the house!
Two-storey split:  One side of this home looks like a bungalow, while the other side looks like a standard 2-storey.  A full flight of stairs accesses the upper portion of the home, and often a living room or family room will be sunken.  There may be less head room in the basement under the sunken areas – a common complaint in split-level homes in general.  Some people mistakenly label this home style as 1 ½-storey (see that description above).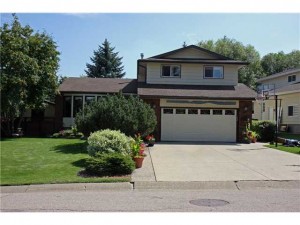 Three- or four-level side split:  From the front, looks like a bungalow on one side, bi-level on the other.  Half flights of stairs lead up and down between levels.  Bedrooms are usually above, family room below.  Some split-level homes have a regular basement under the bungalow-style portion only, and a crawl space under the lowest above-ground level.  This crawl space may have a ceiling height as low as 4 feet.  Other houses will have a basement that is itself two different levels, resulting in homes that have four or even five different levels, all joined by half-flights of stairs.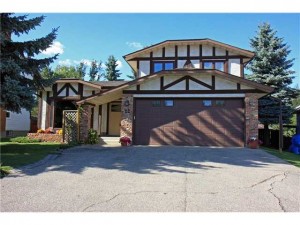 Back split:  Same as the previous description but oriented on the lot so that the home looks like a standard bungalow from the front, taller portions behind.

 
Duplex:  The true definition of this term is a home that looks like a standard bi-level with one dwelling on the upper level and another on the lower level.  But many people use the term to refer to what is technically a side by side duplex:  two homes above grade (with basements) joined by a common wall.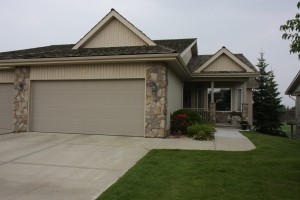 A couple of other things to note when house-shopping by style:
Townhouses may allow first-time buyers to enter the home market since they are generally less expensive than stand-alone or detached homes.  Usually a 2-storey home with basement, sometimes with attached garage, joined to similar neighboring homes in a row.
While many people think of apartments when they hear the word "condo", a condominium is not really a style but rather a type of ownership that allows people to own their space to the walls and share common property (buildings and land) with other condo owners.  (See my blog article "Is Condo Living For You?")
A villa is a condominium style that may be a detached home or perhaps half of a side by side duplex.   Often located in "gated communities" where summer and winter outdoor chores, such as lawn mowing and snow removal, are provided to the residents.

 
Need more information about this topic?  I'm happy to help.  Call or text me at 780-910-9669, email me at barry@barryt.ca, or contact me here.