Thursday, February 17th, 2011
When it's time to buy a house or acreage in Alberta, whether in Spruce Grove, Stony Plain, Parkland County or elsewhere, do you choose a pre-owned home, or do you work with a builder to create a brand new model, modified to your custom specifications?  Whichever way you go, a great resource for all buyers, not just those thinking about building a home, is the Alberta New Home Warranty Program .
If you are looking to build a new home, this website can guide you through the entire process.   Click on sections entitled:
Choose the Right Builder
Understanding the Building Process (with emphasis on the building inspection)
Your Warranty Coverage (explains the various consumer protections for new home buyers) and
Finding Solutions & Settling Issues.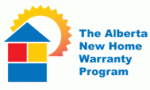 While the primary focus of this website is on brand new homes, all buyers can benefit from several of the publications:
Clicking on Single Family Guidebook takes you to a publication entitled Your Purchase to Possession Guidebook.   This guidebook is loaded with details and answers every question a new home purchaser might have.
 If your new home is a condo, click on The Way Home Condominium Guide for a road map to the purchase process from first notion, through construction, possession, and after you move in.
The Care and Maintenance Guidebook provides a very comprehensive tour of the physical structure of a residence and what you can do to keep your home looking like new.
For information on every aspect of the acceptable standards for "bricks and mortar" of home construction, click on the Workmanship & Material Reference Guide – great for new home buyers, but also an excellent resource for home renovators.
Questions or comments about this article, or about any aspect of purchasing a home?  I'd be happy to help.  Contact me here, phone me at 780-910-9669, or email me at barry@barryt.ca