Thursday, March 24th, 2016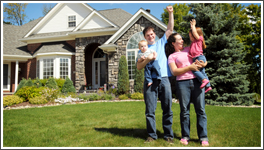 Looking for a new home this spring in Spruce Grove, Stony Plain, Parkland County, the Edmonton region and elsewhere?  You won't be alone in your search as we head into the busy season in real estate with more homes on the market, and more people looking for homes.  With so many things to consider when shopping for a new home, how can you make sure you end up with the best house for you?
I've written before on this topic, and the advice in these blog articles is still solid.  It applies equally well to experienced home buyers as to those looking to get into a first home.  Take a look at these articles and then see more tips below:
"Buying Your First Home?  Start With Your Lifestyle"
"Buying Your First Home?  8 Tips to Guide You Through the Process"
More Tips:



Saving a down payment is just the start.  Remember that you'll need money for much more:  legal fees, home inspection, property taxes, home insurance, utility hook-ups, maybe some fixing up of the new house (or your old one), purchase of furnishings, moving costs (not just transportation of your possessions but also fuel costs, meals while en route, possible hotel stays and so on).
Buy the home you can afford, the one in the middle of your price range.  Calculate the total of your monthly mortgage payment, home insurance, property taxes and mortgage insurance (required if your down payment is less than 20% of the purchase price of the home).  This total should be less than 35% of your gross monthly income.  More conservative advisers suggest this amount should be less than 25% of your take-home pay (equal to one week's paycheck).  Whichever calculation you use should leave you with a comfortable amount of money for everything else in your life.
Buy the house with good bones but ugly finishing.  Dirt can be scrubbed off, holes in walls can be patched, hideous wall colours can be painted over.  Chances are good a tired and shabby home will be 1000s of dollars cheaper than the house that is loaded with glitz and glamour with everything finished.  Look beyond the surface aesthetics for a house that is structurally sound, well constructed and with its systems (roof, furnace, plumbing, electrical, etc.) in good shape.  The time and money you invest in cleaning up the place, re-painting and even adding new flooring and the like will almost always be less than the price you would pay for a home with everything done.  And your hard work will dramatically increase the value of the home.
On a related note, buy a modest house in the nicest neighbourhood rather than the best house in a not so great neighbourhood.  The home in the good neighbourhood will always be worth more than the exact same house in a lesser neighbourhood, and it will retain a higher value because of its association with more extravagant homes located nearby.  What's more, its value to price ratio will almost certainly be greater than that of the more expensive homes in the area.

Keep firmly in mind the difference between your needs and your wants

.  What are the things you absolutely have to have that can't be changed by renovating (such as a quiet neighbourhood)?  Your needs are the things you can't compromise on, but maybe there can be some leeway in things that would be really nice to have but which you could live without.
Pay close attention to the report of your home inspector.  It is sometimes possible to use certain things in a report (such as structural damage or items not built according to code) to reduce the price even after negotiations have been completed and the Purchase Contract signed.  In any case, the report gives you a detailed list of items to fix after you take possession of the home.

Study your mortgage options carefully

.  To start with, having a great credit rating will allow you more choice.  You can save a lot of money by:  putting a minimum of 20% down (to avoid paying for mortgage insurance), opting for a shorter amortization period (if you are able to afford higher payments), paying weekly or bi-weekly instead of monthly, paying property taxes yourself instead of having them added to your mortgage payment.  There is some disagreement about whether it's best to lock in a fixed rate on a mortgage or opt for a variable floating rate.  A fixed rate might give you more peace of mind, knowing what your payments will be for the term of the mortgage, but a variable rate could save you money in certain circumstances.  Ask your lender lots of questions!
Know the market.  Questions to ask your realtor:  What have houses sold for in the area you're considering?  How competitive is the market?  Do houses routinely sell well below the asking price?  Or could you end up in a situation where houses sell for more than the asking price?
Research the neighbourhoods you're interested in. Look for things like crime statistics, type of housing in adjacent areas (high density housing or mobile home parks typically decrease the value of nearby single family homes), proximity of commercial development, traffic patterns, type of land houses are built on (you don't want a reclaimed landfill or bog), income and occupations of residents, and so on.
Condos and housing cooperatives are a good fit for many people but their Homeowner Associations almost always have extensive rules and accompanying fees and fines.  These never go away, frequently go up, and can sometimes come with nasty surprises when additional fees are levied.  Make sure you educate yourself thoroughly before you commit to this type of home.
Could you use this home to create revenue?  Does the home have an in-law suite or room you could rent out if you needed extra cash?
Distance from the neighbours and lots of space in the yard are great, but think about maintenance and its cost.  A long driveway means more snow to shovel in the winter, and a huge lawn means a lot more time spent mowing instead of enjoying our too short summers on the deck.
I'm always happy to help my clients find just the right home for them!  Call or text me at 780-910-9669, email me at barry@barryt.ca, or contact me here.