Tuesday, August 26th, 2014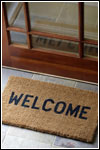 Summer in Spruce Grove, Stony Plain, Parkland County and the Edmonton region often means welcoming family and friends from out of town, out of the province or even out of the country for a stay in your home. Whether their stay is for one night or several weeks, you want your guests to feel comfortable in your home, and you want the experience to be as easy and stress-free for yourself as possible. Take some tips from the best hotels.
Plan, plan and plan some more! Think about the people who will be staying with you. Any special needs that should be considered, such as dietary or mobility issues, or allergies? Any special equipment needed, such as a crib or baby gate for an infant, toys and activities for the kids?  Organize and clean everything beforehand so you can spend your time enjoying the visit.
Welcome your guests with a great meal and some relaxation. Show your guests where everything is and how to operate basic equipment, such as that toilet with the touchy flush mechanism. Give them a set of spare keys so they can come and go as they please. It's also a good idea to supply emergency-contact information and general phone numbers, as well as any other essential details about the house and the neighborhood (appliance quirks, security information, remote control codes, special house rules such as no smoking in the house, etc.)
Sleep, and other basic needs! If you have the space, put up your guests  in a private guest room and bathroom. It goes without saying that everything will be spotlessly clean, even if the bedding and towels aren't new, and make sure the bed and pillows are comfortable. Extra blankets and pillows are welcome. The best guest rooms will also be equipped with a place to sit other than the bed (how about a comfy chair, reading lamp and some current magazines for real pampering?) and a place to store suitcases and their contents. Empty a dresser drawer or two, make room in the closet, supply some empty hangers. If the room you offer your guests usually has another function in your home – not during their residency, please! If the bathroom they'll be using will be shared, make sure it's free of clutter and available for your guests' needs, and well-equipped with essentials such as plenty of toilet paper.
Place a basket of basic travel-size toiletries in your guests' room: shampoo, conditioner, toothpaste, toothbrush, shaving cream, soap, hand lotion, tissues, and the like, along with a little note encouraging them to help themselves. Plenty of towels too!
Use a second basket to hold treat and snack items: bottled water or juice, granola bars, small packages of nuts, fresh fruit, etc.
Other nice touches in the guest room: wall-hung mirror, waste basket, USB plug adaptor/charging station, wifi password, fan in the summer or heater in the winter, alarm clock, hair dryer, pen and paper, fresh flowers.
Meals: Do as much pre-planning and advance preparation as you can so that you're not stuck in the kitchen chopping, cooking and cleaning instead of visiting with your guests. Take a tip from many hotels these days that offer a help-yourself breakfast buffet. Plan for some meals away from home, whether it's a picnic in the park or visits to local eateries. Keep things simple.
Plan plenty of activities, or at least have lots of suggestions ready. If your guests will be with you for a while, chances are you won't be spending every minute with them. If they're unfamiliar with the area, they would likely appreciate a city tip sheet listing local attractions, restaurants, and shops, along with a map and information on getting around.
Household chores: Do as much in advance as you can, and try to do basic household maintenance, such as bathroom cleaning, vacuuming, etc. when your guests are out. Your guests might even be the type who would happily pitch in.  If they offer to help, take them up on it!
Planning ahead will minimize the work and stress of hosting and maximize the enjoyment of the visit, ensuring a memorable and positive experience for you and your guests.
Do you have some great hosting tips to share? Call or text me at 780-910-9669, email me at barry@barryt.ca, or contact me here.