Tuesday, March 1st, 2016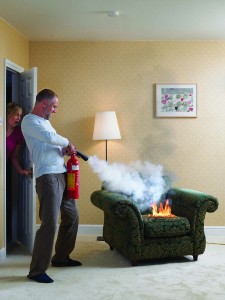 How many fire extinguishers do you have in your Spruce Grove, Stony Plain, Parkland County or Edmonton area home? Do you know how to use them? Have they been re-charged recently? We are often told that the switch to or from Daylight Saving Time is a good time to check the batteries in smoke and carbon monoxide alarms. Maybe it's also a good time to do something about fire extinguishers.
How Many?
If you have only one fire extinguisher in your home… well, that's better than none, but ideally, there should be one close to every heat source, or anywhere you might be using an open flame. So, one in the kitchen for sure. One in the family room or living room if you have a fireplace or regularly burn candles. One in the garage, and one near the barbecue. And maybe one extra on each level of your home, just to be safe. It's a good idea to carry one in each vehicle too.
Learn How to Use a Fire Extinguisher
Make sure after equipping the hot spots in your home with extinguishers that each family member is aware of their locations and that they are readily accessible. Keep in mind that extinguishers are intended for use on small fires to prevent them from becoming large and dangerous. Teach each family member how to use an extinguisher with the PASS acrononym:
PULL the pin. This will activate the extinguisher for when you squeeze the handle.

AIM

the nozzle at the base of the fire.

SQUEEZE

the handle to spray. Remember that you will get only about 30 seconds of use.
SWEEP or move the nozzle back and forth while spraying at the base of the fire.
Maintaining Your Fire Extinguishers
Fire extinguishers are single-use products. After each use, they need to be "recharged" or refilled with the fire extinguishing agent. What many people may not realize is that fire extinguishers, even without being used, will need to be replaced or recharged.   Read about recharging fire extinguishers at Fire Extinguisher 101.   Most fire extinguishers last between 5 and 15 years, and the gauges should be checked once per year. Ask a professional if you are not sure if your extinguisher is still in good working order.
Fire extinguishers used appropriately can save lives and property, preventing a small fire from growing into something that could cause significant damage and tragedy. Well worth the expense of equipping your home and the time it takes to learn about them!
Comments or questions about this article? Call or text me at 780-910-9669, email me at barry@barryt.ca, or contact me here.