Monday, July 25th, 2011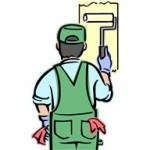 Summer in the Spruce Grove, Stony Plain, Parkland County or Edmonton areas of Alberta is a great time to tackle projects to refresh your home or acreage.  Painting is one of the best things you can do because it adds value to your home without costing much money and is relatively easy to do.  This is especially important if you are looking to sell your home.   A fresh coat of paint is one of the few renovations where you have a chance to recover all of your investment.
If you're a beginner, where do you start?  With so many brands, types and colors of paint to choose from, and so many books, articles and internet sites giving all kinds of advice, it's easy to feel overwhelmed.
An article that's been sitting in my clipping file for awhile now is one of the best I've seen for a quick introduction to the mysteries of painting a room.  "How to paint like a pro" was published in the March 13, 2010 edition of the Edmonton Journal.  If you are a novice painter, I advise you to study every word of this article before you ever start thinking about finishes and colors!    
Then you may want to learn a little more about painting:
One way is to check out the self-help section in a quality paint store or a large hardware store like the Home Depot.  Don't be shy about asking the people working in these places for advice.
A Google search on "How to paint a room" turned up a number of YouTube videos.

Some other practical websites:
How to do IT: Painting a Room!
How to Paint a Room [from the About.com series of websites]
How to Paint a Room Like a Pro – Fine Homebuilding [series of videos]
Painting & Wallpapering – for Dummies [many articles from estimating how much paint to buy, to the proper use of a paint roller, and much more]
TLC Home "How to Paint a Room: Tips and Guidelines"
The best way to learn to paint?  Just get in there and do it!
Comments or questions about this article, or any aspect of home buying and selling?  Call me at 780-910-9669, email me at barry@barryt.ca, or contact me here.