Monday, August 19th, 2013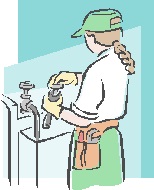 It's 2 AM in your Spruce Grove, Stony Plain, Parkland County or Edmonton area home, and some sense of foreboding has you heading down the basement stairs.  You explore the basement, wondering what could have awakened you.  Suddenly…  Uh, oh.  Your bare foot encounters a puddle of water that has no business being there, and you realize in horror that your hot water tank has sprung a major leak.  Would you know what to do?
Knowing  how to turn off the water heater ranks Number 2 on the list of the "Top 5 DIY Plumbing Fixes Every Homeowner Should Know", from Today's Homeowner.com, right after knowing how to turn off the water to your whole house and to individual plumbing fixtures.
Plumbing emergencies happen, often at inconvenient times, and they almost always need attention long before a plumber can arrive on the scene.  There are also situations that call for minor repairs, ones which any homeowner should be able to undertake on his or her own.   The article contains detailed information for dealing with each of the following:
Plumbing Fix #1:  How to shut off the water (includes turning off all the water in your house and turning off water at plumbing fixtures)
Plumbing Fix #2:  How to turn off a water heater
Plumbing Fix #3:  How to fix a leaky pipe (includes repairing a leak with epoxy putty and repairing a leak with a pipe repair clamp)
Plumbing Fix #4:  How to stop a toilet from running (includes how to adjust the water level in the toilet tank and how to replace a toilet tank flapper)
Plumbing Fix #5:  How to fix a dripping faucet (includes how to replace a washer on a leaking compression faucet and how to repair leaking cartridge or ball faucets)
"Top 5 DIY Plumbing Fixes Every Homeowner Should Know" won't make you a master plumber but this article just might save you a little money and hassle!  Worth a read.
I welcome your comments and questions on any topic related to the home!  Call or text me at 780-910-9669, email me at barry@barryt.ca, or contact me here.