Wednesday, October 24th, 2012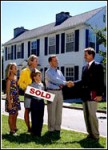 Recently, a number of my clients buying homes in Spruce Grove, Stony Plain, Parkland County and the Edmonton region have agreed to accept Title Insurance in place of an RPR.  What do these terms mean?  What are the advantages and disadvantages? 
An RPR, or Real Property Report, is a survey of a property showing exact measurements of boundaries and the placement of all improvements or permanent structures (house, garage, shed, deck, fence, etc.), as well as the location of easements, utility rights of way, and so on.  The RPR is a legal document prepared by an Alberta Land Surveyor.  A certificate of municipal compliance attached to the RPR means that local rules have been followed regarding the current state of improvements.  That is, every structure on the property is the proper distance from the property boundaries or rights of way, permits are in place for things like attached decks of a certain height, and so on.
Real estate purchase contracts in Alberta require a seller to provide a buyer with a current RPR in conjunction with written proof of municipal compliance.  This could be problematic if the sellers have made improvements to the property, such as adding on to the home, putting up a fence, building a deck, and the like, and maybe they did some of these things without getting a municipal permit.  This would mean that the RPR they received when they purchased the property no longer reflects the current state of the property.  The sellers are then obliged to order a new RPR from an Alberta Land Surveyor (and this isn't cheap or quick), or update the old one.  The sellers must also seek retroactive municipal compliance for neglected permits, sometimes a lengthy, complicated and difficult process – unless the buyer waives the requirement for the Real Property Report with municipal compliance.
Waiving that requirement may put the buyer at risk should it turn out that the improvements do not comply with municipal rules.  What if the detached garage was built too near the property line, or on top of the gas line?  What if the deck built on to the side of the house hangs over the neighbor's property by a foot?  The new owner of the property could be on the hook for the considerable expense of making these things right, not to mention the hassle of tearing down perfectly good structures that just happen to be in the wrong place.
That's where Title Insurance comes in.  Title Insurance in Alberta "guarantees" that improvements on the property comply with zoning bylaws and that there are no encroachments either from other properties or onto other properties.  Title insurance doesn't magically make problems go away.  But, if bylaws have been broken or encroachments exist, title insurance (with some restrictions) will pay the cost of obtaining compliance or removing encroachments. 
Advantages? 
Title insurance can be a good compromise in situations where a new RPR would uncover a problem (for example, no permit for an attached and covered deck) whose solution would be much more costly or invasive or time-consuming than either seller or buyer wants to undertake.
It can also be an excellent hedge against such things as mortgage or title fraud, builder's liens, or hidden deficiencies, such as basements developed without permits, underground storage, and the like.
Title insurance usually costs considerably less and is often easier and faster to obtain than a new RPR.
However… there are some disadvantages that buyers in particular should be aware of:
Property buyers in Alberta should know that the concept of title insurance originated in the US where citizens do not enjoy the same level of protection that the Alberta system of land titles registration provides.  An up-to-date RPR with municipal compliance is still the best protection for a buyer, as it ensures that the property meets all current bylaws, regulations and the like.
Title insurance does not reveal underlying issues or correct structural deficits.   It merely provides the financial means for the future to clean them up should they be discovered and should there be an insistence that they be made right.  Note also that title insurance, even if obtainable, does not absolve sellers from the legal obligation to disclose all known defects about their property.
The usual arrangement when title insurance is offered in place of an RPR is that the buyer purchases the insurance and is reimbursed by the seller, as per the purchase contract.  The new owner of the property is then the holder and beneficiary of the insurance policy for as long as he owns the property.  But… when it is time for him to sell the property, he must either pay for a new RPR after correcting problems, or offer and pay for the same deal he accepted, hoping that the new owner will agree to title insurance – not a foregone conclusion.
So, as a buyer, what is your best course of action?  Given the above, it might seem that you should always insist on a new RPR.   Sometimes that is the right thing to do.  But there are many situations, especially in cases where "correcting a problem" may be worse than living with the status quo, and where time is a limiting factor, when accepting title insurance in place of a missing RPR or in addition to an outdated RPR is the way to go.  Your realtor and lawyer are in the best position to help you decide.
For more information and detailed examples:
Real Estate Council of Alberta (RECA) Information Bulletin:  Title Insurance
Real Estate Council of Alberta (RECA) Information Bulletin:  Real Property Reports
(The above article is not intended to cover all aspects of the topic of RPRs and title insurance.  Buyers and sellers are urged to seek detailed expert advice relevant to their personal situations.)
Questions or comments about this or other real estate matters?  I'm here to help!  Call or text me at 780-910-9669, email me at barry@barryt.ca, or contact me here.