Tuesday, September 23rd, 2014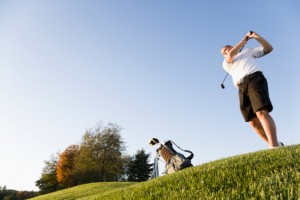 Golf lovers in Spruce Grove, Stony Plain, Parkland County and the Edmonton region rave about one of Alberta's best golf courses: Stony Plain Golf Course. With 18 holes of professional level golfing, Stony Plain Golf Course has quickly become a go-to course for Albertans when the season rolls around. Here are five reasons to check it out before the cold weather interrupts.
Some of Alberta's Best Golfing
The 18 championship holes at Stony Plain Golf Course are some of the best in Alberta. People travel from around the province to compete in tournaments held at the course. There is a driving range and practice areas for both short game and putting and official leagues for different ages and talent levels. They have made it easy for both locals and visitors to compete and enjoy everything the course has to offer.
A Free Junior Course for Young Golfers
A 4-hole loop is offered free of charge for anybody under the age of 10 to enjoy. With oversized holes and small to medium length fairways, the course doesn't rush the kids or make it too hard on them. This gives kids the chance to learn the basics of the sport with their friends while their parents use the rest of the course.
Revenue is Used to Help Stony Plain Residents
Even though the entire course is owned and operated by the town of Stony Plain, no public money is used to fund it. The course is so successful that over $100,000 a year is taken from the money they make and put directly into the Stony Plain Tax Levy Stabilization Fund. This means that every resident will benefit from the money brought in by all the tournaments and rounds of golf played at the course.
Fully Equipped For More Than Golfing
The course has more than just golfing. There is a full pro shop and a restaurant and lounge that is open all year round, even when the course is closed. There is a meeting facility and banquet hall that can fit up to 160 people and can be used for many different events or parties.
Offers Great Tournament Services
The Stony Plain Golf Course is able to organize tournaments for groups as small as 12 or as large as 144. Their package includes everything a group would need to put on their own golfing tournament. Not only are professional tournaments held here regularly but also many small tournaments, for nothing more than bragging rights, often take place between friends and co-workers. This is a perfect idea for a unique birthday gift or bachelor party.
The Stony Plain Golf Course is just the tip of the iceberg when it comes to great services for residents. I'm always available to talk about the benefits of living in Stony Plain to anybody interested in getting more information on the community. Call or text me at 780-910-9669, email me at barry@barryt.ca, or contact me here.