Wednesday, February 29th, 2012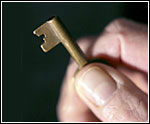 A good solid lock is one of the best ways to secure the biggest investment most of us will ever make, whether it's an acreage in Parkland County, a house in Stony Plain or a condo in Spruce Grove.  But what if that lock is sticking and your key is not reliably locking and unlocking the door each time?  Are there some simple fixes, or do you have to get a locksmith to replace every lock in your home?
I recently ran across an article entitled "When your key doesn't unlock the door" published in the January 13, 2012 issue of the Grove Examiner.  This article, also found online on the Edmonton Sun website, is well worth a read.  The author, noted security expert Frank Fourchalk, has numerous suggestions to solve the problem, from using good old reliable WD-40, to tightening various screws and filing the strike plates, to re-keying (not replacing) your locks, and more.  Read his excellent advice on everything relating to home security on his own website, Your Home Security.ca 
If you're concerned about security in your home, take a look also at my checklists:
Looking to buy or sell in Spruce Grove, Stony Plain, Parkland County or the Edmonton area?  Give me a call at 780-910-9669, email me at barry@barryt.ca or contact me here.