Tuesday, October 27th, 2015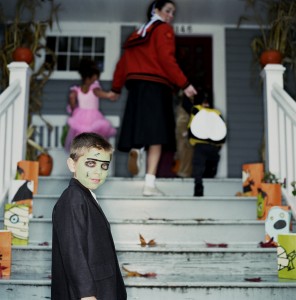 Fabric ghosts fluttering from trees, big blow-up monsters, elaborately carved jack-o'-lanterns, orange lights on roof edges… Every year in Spruce Grove, Stony Plain, Parkland County and the Edmonton region, it seems more and more homeowners decorate their homes for the visits of little superheroes and princesses out to collect treats on that spooky night.
Just how safe is the path to your front door for those little tricksters? And from a homeowner's perspective, would your liability insurance coverage be adequate in case of an unforeseen accident? I remember witnessing a problem at a friend's home last Halloween that could have had disastrous consequences. The home is a bungalow whose front door is reached via 4 concrete steps, built at a time when railings on the sides of such porches or stoops were not mandated. The porch luckily drops off into a fringe of shrubs at the front of the house, rather than onto a hard concrete sidewalk. Inevitably, several excited youngsters fell off the steps that night, resulting in some minor bruises and spilled candy. Things could have been so much worse, and I'm pretty sure my friend will be reinforcing those porch edges this Halloween.
Keep visitors safe this Halloween:
Check your fire safety measures
When setting up electrical decorations and lights, don't overload your electrical circuits.
Use battery powered flameless candles in jack-o'-lanterns.
Check for obstructions and hazards in your yard
If you must use an extension cord, make sure it is out of reach of little hands and well secured so as not to be a tripping hazard.
Remove obstacles such as lawn ornaments or garden tools, and rake up wet leaves and other debris.
Light up any decorative elements in your yard to avoid people running into them, or make them part of your Halloween tableau by surrounding them with "crime scene" tape.
Light up your walkway and keep the path clear. Snow on Halloween is always a possibility in our area, and it goes without saying that snow and ice should be cleared away to prevent injury from falls on slippery sidewalks.
Check your insurance coverage, just in case
Have you heard of the Teal Pumpkin Movement?
People paint and display a teal pumpkin to show that they are giving out treats that are safe for all kids, including those with allergies. That usually means non-food items, such as stickers, erasers or pencils, small toys and the like.
Protect your home and property too:
Keep your pets indoors for their safety as well as the safety of visitors.
Place garbage cans inside a building or secure them so they can't be tipped over.
Park vehicles in your garage if possible.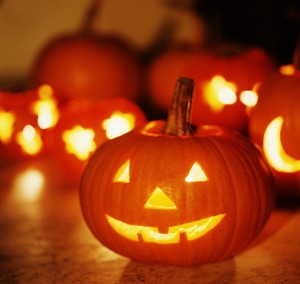 Once you've made your home safe, fill up the treat bowls, dress in your spookiest costume, turn on all the lights, and prepare to welcome all the little ghosts and goblins!
Do you have any more tips to add for a safe and fun Halloween? Call or text me at 780-910-9669, email me at barry@barryt.ca, or contact me here.