Monday, August 20th, 2012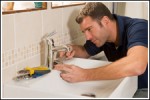 Looking for a contractor to tackle the renovation of your Spruce Grove, Stony Plain, Parkland County or Edmonton area home?  We often hear news reports of consumers who have been ripped off by unethical contractors, or left with a huge mess by incompetent and unlicensed workers.  How do you go about finding somebody who will do a great job for a reasonable price?
My assistant recently had two bathrooms in her home upgraded by a contractor.  "We put off the work for far too long because we didn't know who could do the job for us and were afraid to just pick somebody at random.  Luckily, a friend of mine who is very particular about how her home looks had just had her bathroom renovated.  She recommended we try the fellow she'd used, and we were thrilled with the results."  Getting a recommendation from someone you know, and seeing the contractor's work first-hand is by far the best way to hire a contractor for similar work.  But what if you don't know anyone who has had recent work done?
Two excellent sources of advice for finding a contractor, dealing with the contract, estimates, permits, overseeing the work, payment and everything else that goes with a renovation are the following:
Get written estimates
Check references
Warning flags
Hire qualified tradespeople
Signing the contract
Working with prepaid contractors
Also included is a section explaining what to do if you run into problems, along with a handy contract checklist, and where to find more information.
Hiring a Contractor – Fact sheet from Canadian Mortgage and Housing Corporation (CMHC).  Topics include:
Who do you hire?
Finding and choosing a contractor [excellent list of questions to ask]
Getting estimates or proposals
Get it in writing
The contract
Completion certificate
Holdbacks
Working with your contractor
Consumer protection laws
About insurance
Checklist – Hiring a contractor
Scroll down to the bottom of the webpage for even more resources, including a Sample Renovation Contract and a video on Hiring a Contractor.
The Better Business Bureau is also a good source of information.  Take a look at their article "Quick Tips for Hiring a Home Contractor – Do You Know the Red Flags?" and use their database to check out contractors.
Comments or questions about this article?  Call or text me at 780-910-9669, email me at barry@barryt.ca, or contact me here.