House Shopping = Lifestyle Shopping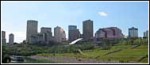 You may have seen the ad on TV about the couple who bought what looks like a nice house, only to discover it has numerous flaws, such as being shaken off its foundations every day by the passage of the 11 o'clock train!  If you're shopping for a new home in Spruce Grove, Stony Plain, Parkland County or the Edmonton area, you're going to want to consider more than just the features of the house itself.
You probably have a long list of things you want in a home:  the number and size of bedrooms, the set-up of the kitchen, modern fixtures in multiple bathrooms, amount of storage space, parking, cosmetic features such as paint colors and flooring, and much more.  You may have considered the style of residence that would work best for you, such as a 2-storey home for a growing family or a bungalow for people with reduced mobility.  You've probably also given some thought to landscaping features, such as patios and decks, trees and shrubs in the yard, walkways, driveway space, fences, and so on. 
But almost as important as the house and yard is the neighborhood in which your potential new home is located.  Yes, there's that real estate cliché again – location, location, location – showing up over and over again as a very important element in the whole home buying and selling experience. 
Because, when you shop for a home, you're really shopping to meet the needs of your lifestyle, and that always extends beyond the walls of the building in which your family sleeps at night. 
If you have a young family, you probably are interested in a neighborhood close to a school or adjacent to a park with a playground.  If you are a senior, you might look for a neighborhood where the amenities you need or want, such as shopping, recreational activities, medical facilities, fine restaurants, are in convenient reach, perhaps even walking distance.  Maybe you spend long hours at your job or other activities, so a home within an easy commute would be good for you. 
This isn't all.  Consider the things you want or don't want to live near.  Some people like corner lots, for example, while other people detest them.  Many people would love to live in a home that backs onto green space or a water feature (and often, as a seller, you can command a higher price for a home like this).  Most people would prefer that their dream home not be located on a busy and noisy thoroughfare, or next to a high-crime area.  As you shop for your new home and new neighborhood, it doesn't hurt to think about the resale value of the homes you're looking at, and realize that the value comes from more than the building on its lot.   Remember too, that there are things you can change, such as kitchen counters and cupboards, and things you can't, like that train I mentioned earlier!  The home, its surroundings and your lifestyle become a package deal. 
I'm always happy to respond to your comments and questions!  Call or text me at 780-910-9669, email me at barry@barryt.ca, or contact me here.