Home Inventory: Do You Have One?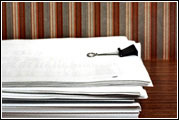 As the holiday season approaches in Spruce Grove, Stony Plain, Parkland County and the Edmonton region, you're probably getting your home in shape for visits from family and friends.  This may mean adding new furniture or entertainment devices, as well as cleaning and organizing your current possessions.  Do you have a record of all your possessions, old and new?   
Your home and everything in it means a lot to you.  Sure, you have insurance in case anything should happen, such as a break-in or fire or adverse weather event.  But how would you let your insurance agent know exactly what you have that may need to be replaced?  As you go about your holiday preparations, it might be a good time to consider re-doing, or creating for the first time, an inventory of everything you own connected with your home.  Good idea, you say, but where to start? 
Luckily, the technical world can come to your rescue, both for creating the inventory and for storing it.  At its heart, a home inventory is a list containing various pieces of information such as name of the item, its location in your home, brand name, purchase price, current or replacement value, when and where acquired, serial numbers and so on.   
CAA Magazine's "The Value of Your Home:  Tips on Creating a Home Inventory List" can get you going with a step by step process.  Another article on this topic is State Farm's "Creating a Home Inventory".
Here are some tools that can make your job easier: 
Spreadsheet software, such as Microsoft Excel, Open Office Calc, or Google Docs Spreadsheet (see this home inventory template

) can create a form on which to record the data.  

 

It's also possible to find many pre-made home inventory templates on the internet, such as these examples:
Insurance Brokers Association of Canada Home Inventory Form 
State Farm Home Inventory Checklist 
Minnesota Department of Commerce, Insurance Division Home Inventory Checklist
A photo or video inventory is a good complement to a written list.  Today's cameras and even phones make it easy and relatively fast to take stock of a home's contents.  The pros recommend not just taking a picture of an item, but also zooming in on serial numbers and important details, such as the brand of an object (turn over a piece of china to show the manufacturer, for example).  It's also a good idea to take pictures of receipts or appraisal reports, especially for high-value items purchased new, or antiques.  Audio can provide a running commentary of what the items are and their value.  Burn the pictures to a DVD for storage outside your home or upload them to an online account.
Home inventory software is another option, and some very good ones are free:
Know Your Stuff Home Inventory
These packages allow you to create lists, add photos, receipts and the like, and generate reports.
To get really futuristic

check out iTrackMine

, a free web-based resource billed as the "ultimate collection manager".  By typing in (or scanning with a barcode scanner or an Android phone) the ISBN or UPC numbers of items in a collection, such as books or movies, you can automatically generate a list containing all kinds of information, including pictures.  Where it's really useful for home inventory purposes is its ability to produce an insurance-ready report.
Why not make the doing of a household inventory a family project this holiday season?  While giving new meaning to the expression "making a list and checking it twice", you'll end up with a worthwhile gift for yourself and your family!
Comments or questions about this article?  Call or text me at 780-910-9669, email me at barry@barryt.ca, or contact me here. 
Tags: emergency preparedness, home inventory, home security, insurance, Personal Finance