Drive-by Delight or Disaster?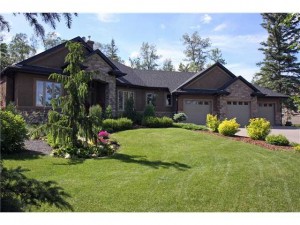 When you drive up to your home in Spruce Grove, Stony Plain, Parkland County or the Edmonton area, do you feel proud of the way it looks?  Or is your home looking a little shop-worn and tired compared to other homes in your neighborhood?
If you are thinking of putting your home on the market, it's time to do something about the state of its curb appeal.  In today's market your home is in competition with every other home for sale and it needs to stand out from the rest with a good first impression.
Maybe you've got a long list of face-lift and landscaping projects you've been putting off because you don't want to spend 1000s of dollars.  Is it possible to do a few fairly simple and inexpensive things to make your home look attractive to would-be buyers so they will at least slow down for a second look? 
One of the most noticeable and least expensive fix-ups, especially if you do it yourself, is new paint.  If your home has paintable siding, consider freshening up the look with a new fashionable color.  It's possible to be trendy while still coordinating with other homes in your neighborhood.  If your home has vinyl or metal siding, give it a good cleaning and paint all the trim with a color that complements the color of your roof.   
As with the interior of your home, clean and tidy goes a long way to impressing potential buyers and luckily doesn't cost much.  Here are a few things to consider:
Clean and shine everything.  Windows should sparkle, metal trim such as house numbers and door hardware should be tarnish-free, front porch should be clear of dirt and debris, driveway oil spots need to be banished, brickwork should be freshened, and so on.
Get rid of the clutter.  Kids' bicycles tossed down next to the driveway, leftover building supplies at the side of the house, bundled up newspapers and bottles waiting to be recycled – all of this needs to go.
Manicure your yard.  Trim your lawn neatly, dig up any stray weeds, use an edging tool and string trimmer ("weed whacker") for tidy borders.  Give your shrubs a haircut and tidy up the flowerbeds.  Consider some colorful flowering plants in pots or planters to add a few spots of brightness and cheer to the yard.  In the fall, rake up fallen leaves, and in the winter, keep your sidewalks and driveway clear of snow and ice.
Repair any visible shortcomings, such as broken light fixtures or windows, loose shingles, crooked downspouts, falling-down fences, driveway cracks, uneven sidewalk blocks, and the like.

 
How welcoming is your front entryway?  Staging your front porch with a few accessories, just as you would your living room, is going to make homebuyers want to look inside.  Paint or replace your front door, or even just the door hardware, mailbox, light fixtures, etc., with something more modern (another fairly inexpensive change).  It may seem a little cliché but a welcome mat on the porch and a wreath or basket of flowers on the door really do click with many homebuyers.  If there is room on your porch, items such as a flower-filled planter or rocking chair can add a great deal of charm to an otherwise nondescript area.  Other things to consider:  attractive new railing, striped retractable awning, ivy-covered trellis, hanging floral baskets… 
While it may cost you a little money and time to improve the curb appeal of your home, it's definitely worth it.  It's been shown time and again that a home that looks well-maintained and cared for sells faster and for a higher price. 
For more ideas, take a look at my Curb Appeal Pinterest board. 
Comments or questions about this article?  Call or text me at 780-910-9669, email me at barry@barryt.ca, or contact me here.
Tags: curb appeal, home improvement, home maintenance, home selling, Tips For Home Sellers