Selling Your House in Spring: Tips That Will Boost Your Home's Appeal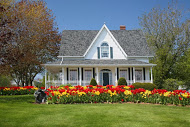 If you've decided on moving to another section of Spruce Grove, Stony Plain, Parkland County and the Edmonton region in the springtime, you've first got to sell your old home. While selling your home can be difficult, whether it's Stony Plain real estate or not, it can be made easier with some helpful tips. Selling a home in the springtime is definitely different from selling it at any other time of the year. In the spring, there are certain factors that you can work to your advantage. Here are some of the best tips to boost the appeal of your home.
Make Sure Your Yard Is Immaculate
Selling in the springtime means that you have a lot of people who will be looking at your yard because of the better weather. Spruce Grove real estate agents believe that you have to de-clutter your yard and make it extremely presentable to all the people filing in during an open house. If you can, you'll want to start preparing in the winter by sprucing it up one season early. Focusing on the yard involves the basics, such as making sure the lawn is cut and looking nice, the fence is painted, and the area is free of debris.
Get Rid of Junk Inside the Home
Parkland County real estate agents agree that less is more when it comes to showing your home in the spring. This means that it is in your best interest to get rid of junk inside your home. When people are walking through your house, whether it's Edmonton real estate or not, the last thing they want to see is your junk. This can be everything from dirty clothes and unused pieces of furniture to older stuff that you're just hoarding in a corner somewhere. It's a good idea to clean out your bookshelves and closets, and send old stuff to storage.
Compare What Other Houses For Sale Are Doing
When selling your home, it's a good idea to check out Parkland County acreages or Edmonton acreages, or other homes for sale in your municipality, just to get a feel for what the other homes are going for and what they're including in their offers. For instance, if you see things that are popular in your neck of the woods, you might be inspired to make the same changes to your own home when selling it. Popular items in homes could be anything from hardwood floors to new light fixtures to upgraded appliances. If there's something that people in your neighbourhood like, then you may want to consider including it in your home when you sell it.
These are the most effective tips for selling your home in the spring. Thanks to these tips, you'll be attracting more people than ever to your open house events. Any time you're selling a property, it is always important to give homebuyers precisely what they're expecting.
Please don't hesitate to get in touch with me for any home-related questions you have. Call or text me at 780-910-9669, email me at barry@barryt.ca, or contact me here.
***We now have a monthly email newsletter!  Send an email to barry@barryt.ca with Subscribe in the subject line and we'll happily add your name to our mailing list.***