Easter in Edmonton: The Best Events Happening Around Town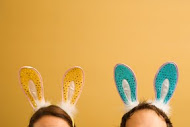 Easter Sunday falls on April 20 this year, which means that with a little luck there will be some warm weather in town to lighten the mood of Easter festivities. If you're new to the Spruce Grove, Stony Plain, Parkland County and the Edmonton region, or if you're a long-time resident, there are always lots of great events happening around town where you and your family can celebrate Easter in the community. These are just a few of the events you can take part in this year.
Hop to It at the Edmonton Valley Zoo
The Edmonton Valley Zoo is holding their popular "Hop to It" event again this year. Visitors will get to participate in science experiments and craft making. You can also get a temporary airbrush tattoo, experience the sensations of an egg-themed touch table, and go hunting on a scavenger hunt. The "Get Closer" feature offers guests some fascinating encounters with the zoo's animal residents, and you can watch the animals hunt for their own Easter eggs. Depending on who finds them, the eggs might be played with, eaten, or even smashed.
How to Make a Monster at TELUS World of Science
If you're looking for something a little different on the Easter weekend, it would be a perfect time to visit the How to Make a Monster exhibit at TELUS World of Science. The exhibit will show you the latest tricks and techniques that Hollywood uses to bring big screen creatures to life. You will see the work of Academy Award winning effects artist John Cox, including aliens from Pitch Black, the crocodile from Peter Pan, and the ape from George of the Jungle 2. You can also take control of a creature and try your hand at being an animatronic puppeteer. The exhibit's last day is April 21, which is Easter Monday.
Chop Suey on the Prairies: A History of Chinese Restaurants in Alberta
You can put some "East" into Easter by visiting the Royal Alberta Museum on Easter Sunday. That's when they launch "Chop Suey on the Prairies," an educational look at the history of Chinese restaurants in Alberta. The exhibit will examine the popularity of Chinese food in North America and look at the many different settings in which you can find Asian cuisine. What you learn might surprise you.
Easter Eggstravaganza at Rutherford House
The Rutherford House Provincial Historic Site has established a great tradition of hosting an Easter Eggstravaganza. This family event lets visitors explore the historic home of Alberta's first premier, Alexander Cameron Rutherford; he first moved into the house in 1911. The event features an Easter egg hunt, a sampling of cookies that are baked traditionally in a wood burning oven, and fun Easter-themed crafts.
As you can see, you won't have to look very far to find great family fun on Easter weekend in Edmonton, no matter the weather.
Please do not hesitate to contact me if you have any questions about your home or Edmonton real estate. Call or text me at 780-910-9669, email me at barry@barryt.ca, or contact me here.