Citizen Canine: Off-Leash Dog Parks in Spruce Grove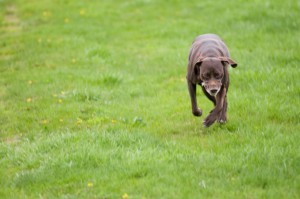 Do you own Spruce Grove real estate, Stony Plain real estate, Parkland County real estate, Edmonton real estate, or one of the many Parkland County acreages or Edmonton acreages, or other real estate in the Edmonton area? Are you looking for a great place to let your dog off-leash in one of those areas? Well, below is a summary of Spruce Grove's off-leash dog parks to get you started. The Spruce Grove off-leash parks are easily accessible from all of the above areas. Your little four- legged friend will surely thank you for the wide opens space to run around!
Experience Cpl. Jim Galloway Memorial Off Leash Area
If you've been around Spruce Grove for a while you might remember this park by its former name "Century Off-Leash Park." You can find this park at 51 Century Close. One of the special things about this park is the creative layout that includes a specific area of the park for smaller dogs, so you don't have to worry about your little puppy being intimidated by all the big pooches! The facility features a double-gated entryway perfect for leashing and unleashing your dog. The off-leash area is about 8.6 acres big, with 1 km of gravel trails for you and your furry friend to take advantage of. Dotted throughout the park are benches and other seating areas, and the park is totally fenced.
For an Unfenced Park Try Marlboro
South of Marlboro Drive, near Heritage Grove Park, lies this nice little unfenced park where you can take your canine friend for some activity and fun. The park is accessible via the Heritage Grove trail system or via a pathway off Marlboro drive. Remember that the area is unfenced, so make sure your dog is appropriately trained before you try this park.
Observe Park Etiquette
When you go, remember to observe some basic off-leash park etiquette tips. Pick up after your dog (there are receptacles around the park where you can dispose of waste), and keep your dog leashed until you arrive at the specific off-leash area. Also important to remember is not to bring your dog if he or she is sick, to be in control of your dog at all times (if they need some more training before they are ready for the off-leash park then do that before bringing them out), and remember not to get too busy visiting with all the friends you will surely meet and make at the park that you forget to keep an eye on your dog and what he may be up to! Sometimes with so many canines in one place they can interact in unusual ways that need to be monitored.
Off-leash parks are a great way to enjoy the city and get out and about. They give you the opportunity to exercise, enjoy nature, spend time with your dog, and meet new people. Get out and enjoy one or both of Spruce Grove's off-leash parks this summer.
If you'd like more information about Spruce Grove real estate, whether you're looking to buy or sell, call or text me at 780-910-9669, email me at barry@barryt.ca, or contact me here. 
Tags: Pets