Hands Off! When Buyers and Sellers Need to Leave It to the Pros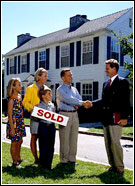 An incident occurred recently involving one of my buyer clients, providing another good reason for buyers and sellers to be represented by REALTORS®. There are lessons here for all buyers and sellers of real estate in Spruce Grove, Stony Plain, Parkland County, the Edmonton region or elsewhere.
My client's purchase of a home was nearly complete. All the documents had been signed, conditions removed, keys ready to hand over. My client was very happy with the home. It was in top-notch condition, being exceptionally clean and well-maintained, with a beautifully landscaped yard.
My client happened to be driving past the property when he spotted the current owner in the garden apparently digging up shrubs and handing them over to a friend. This is, of course, a no-no in real estate transactions. Once a deal has been done and a contract in place, anything attached to the property has to stay.
When I represent the sellers in a real estate transaction, I usually warn my clients who are selling their home to make sure they remove everything they want to keep that would normally be considered permanent attachments to the home before we even place the listing on the market. Once a home is on the market, potential buyers have every right to assume that what they see is what they will get. That means sellers can't take away items such as wall-hung shelves, kitchen cabinetry, drapery rods, plumbing or light fixtures, or parts of the landscaping, nor can they swap out appliances with cheaper or older models, unless those things are specifically mentioned in the contract.
So, if you were the buyer in this situation, what would you do?
I urge people involved in something like this to contact their REALTOR® and have him or her confer with the other REALTOR® to resolve, and possibly defuse, the situation. Buying and selling real estate can be an emotional, nerve-wracking experience, and nothing constructive can come out of a direct confrontation between buyer and seller. Instead, the two agents can determine whether there has been a breach of the contract, and then establish the best way to settle the issue. That way, no one should feel hurt or ripped off, no one loses face or good will, and the end result is what we all want: a successful and positive conclusion for all parties.
Questions or comments about what a REALTOR® can do for you? Call or text me at 780-910-9669, email me at barry@barryt.ca, or contact me here.
Tags: home buying, home selling, REALTORS®, Tips for Home Buyers, Tips For Home Sellers