The DIY Guide to Replacing Your Broken Bathroom Faucet in Just Six Easy Steps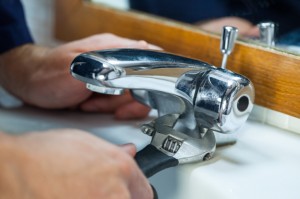 If you own Parkland County real estate or a home in the Stony Plain, Spruce Grove or Edmonton area, you're probably familiar with a whole host of around-the-house handyman strategies for completing minor repairs. One type of repair that many homeowners overlook is replacing a bathroom faucet. Bathroom faucets can and do break, and knowing how to replace a broken bathroom faucet can save you the time, effort and money it would take to hire a handyman for the job. Here's how you can replace a broken bathroom faucet in six easy steps.
Step #1: Finding a Replacement
First, examine the sink. After removing the faucet attachment, you'll see several openings. Look at the openings, and check to see how far apart they are. Bathroom faucets might have two handles that spread apart, or they might be a single unit. Knowing the configuration of your sink will enable you to select the correct replacement faucet.
When choosing a replacement faucet, it's important to keep in mind that not all faucets are created equal. Faucets costing less than $100 are often made from chrome-plated plastic parts, and they have valves and seals that wear out quickly. These faucets might be able to withstand light usage, but they will not last over the long term. Faucets that cost $100 or more usually use a firm brass body. This kind of faucet is leak-resistant and does not break easily. A number of faucets come with lifetime warranties – opting for one such faucet is a great way to avoid further expenses down the road. A good sink replacement can add value to a Spruce Grove real estate property.
Step #2: Reviewing the Instructions
Every faucet has a unique set of instructions, and they range from highly detailed and useful to minimal and maddening. Read the instructions thoroughly, and ensure you have all the necessary tools and components to do the job. Make sure you review any and all diagrams and appendices to ensure you have a good mental picture of what it is you'll be doing.
Step #3: Prepare the Workspace
Next, remove all the objects from under the sink. Fetch a portable lamp and shine it underneath the sink. Under the sink, you will see two supply lines that come out of the wall and reach up to the faucet. Turn off both these valves by twisting clockwise. Once the valves have been turned off, it is safe to loosen the tube nut and to lift the tubes out of the valves. Additionally, there will be one, two or three large nuts holding the faucet in place. Use a basin wrench to remove them.
Step #4: Lift the Old Faucet Up and Out
Lift the old faucet out of the sink, and examine the tubes to see if they have been damaged. If there is damage to the tubes, you will need to replace them. You can find plastic tubes, as well as end fittings and nuts, at your local hardware store. Ensure the new plastic tubes are the same length as the old ones.
Before installing the new faucet, be sure to clean the area. You can dissolve hard water deposits using an acid-based cleaner or vinegar.
Step #5: Installing the New Faucet
When installing the new faucet, check to see if the faucet base has a soft gasket. The soft gasket seals the base and prevents water seepage. If there is no such gasket, you can create one using plumber's putty. Stick the putty around the base and start tightening the large nuts. Some of the plumber's putty may squeeze out onto the faucet – if this occurs, you can remove it using rubbing alcohol
Step #6: Attaching New Tubes to the Faucet
Attach the new tubes to the faucet before installing the sink. Then assemble the new faucet and slip it through the hole in the sink. Then, simply tighten the nuts below the sink, and voila! Your Edmonton property has a beautiful new faucet. Before you use this new faucet, be sure to turn on the valves underneath the sink and ensure all the nuts are tight. Check for leaks when you run the water, and tighten connections as necessary.
***For even more help, see the YouTube video from RONA "How to Install or Replace a Bathroom Faucet".
Repairing bathroom faucets and completing other repairs at your Stony Plain real estate properties or Parkland County acreages doesn't have to be a challenge. With a little bit of knowledge and the right tools, you can carry out minor repairs throughout your home and feel confident in your ability to care for your property.
For more great information and to discover all that Edmonton real estate and Edmonton acreages have to offer, please get in touch with me today.  Call or text me at 780-910-9669, email me at barry@barryt.ca, or contact me here.