Tips to Security Proof Your Home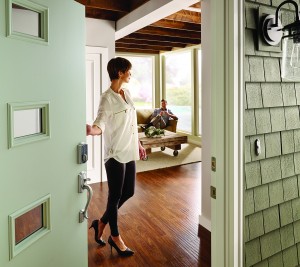 With the arrival of fall in Spruce Grove, Stony Plain, Parkland County and the Edmonton region, most of us are back into the routine of kids back at school and all family members busy with activities of various kinds.  This means lots of come and go in our homes, making it even more important for our homes to be easily accessible for family members but not at all for intruders.
Security is a top priority for all home owners and their families. Technology is revolutionizing the way we protect, monitor and interact with our home. Security systems are becoming quick and customizable,  offering home owners the ability to ensure top safety and high levels of convenience.
Keyless security locks eliminate that haunting feeling of forgetting to lock the door and the resulting worry for the safety of your home. Electronic, keyless locks, like the Schlage Touch increase home protection and security because there is no cylinder to pick for potential intruders.
This technology gives home owners the ability to create codes to allow access for friends, and delete them when not needed anymore. It is important to look for touchscreen locks that are finger-print resistant that won't rub away with continued use or due to weather conditions.
Families using electronic locks should be aware of how to set secure codes to ensure the highest level of safety. When creating a code for your home lock, there a few best practices to be aware of. Choose a code that never uses the same numbers twice and avoid sequential numbers to increase security. Stay away from commonly used combinations like 1234, 0000, and 1111 because these are the easiest for an intruder to guess. It is best to create a code that uses memorable numbers, like an anniversary, or graduation date. These are not obvious enough for an outsider to think of but have significant meaning so that your family members can remember the code.
Not only do touchscreen locks provide high levels of security but they add distinct convenience for busy families on the go. This means no more worrying about where your lost keys have disappeared to, or concerns about safety for that backup spare key under your doormat.
Take these proactive steps to keep your family and home safe and eliminate risk from potential intruders.
Looking for a new home with increased security features?  Maybe I can help.  Call or text me at 780-910-9669, email me at barry@barryt.ca, or contact me here.
(Most of the content of this article courtesy of www.newscanada.com)
Tags: home security