16 Tips to Cozy Up Your Spruce Grove Home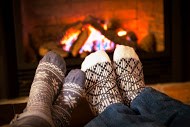 Our unseasonably mild winter in the Spruce Grove, Stony Plain, Parkland County and Edmonton region might have you wanting to fling open the windows to let in the bright sunshine and spring-like air, but not so fast! Experience reminds us there is still plenty of winter left, along with the need to keep your home warm and cozy.
Sure, you can crank up the thermostat, put on a warm sweater and brew multiple cups of hot chocolate, but why not try a few of these strategies to make your home snug and welcoming?
No fireplace? No problem! Electric baseboard heaters have been around for years, but today wall mounted electric fireplaces available at stores such as the Home Depot, Lowe's, Costco, Canadian Tire, even Amazon can provide wonderful ambiance and warmth in any room for a reasonable price. Or, for instant pretend warmth, turn on the fire log channel on your TV, or put on a fire DVD!
During the day when the sun is shining, open curtains wide to let in the heat and light. Make sure your windows are sparkly clean to let in every drop!
Seal air leaks in your home at doors and windows (check your weather stripping), as well as plug-ins on outside walls, the basement where cement meets wood frame, kitchen hood vent, etc.
Block drafts during the cold winter nights by covering windows with double-insulated blinds or insulated drapes. Warm up the room in a surprising way by covering a whole wall in curtains. You won't have to break the bank to do this either; Ikea has tons of brightly colored and patterned panels for very little money.
Darker walls in a charcoal gray or a chocolate brown create a cozy, cave-like atmosphere. (Surprisingly, darker walls seem cooler in the summer too.) Or, paint your walls in soothing blues, greens, grays and beiges.
Soften up your home with furniture upholstered in touchable fabrics such as chenille. Position the furniture away from outside walls, if you can. Add pillows in bright warm colors and faux fur throws to make your spaces inviting and welcoming. Add more softness with a big fuzzy rug and textured wall hangings. And a big furry cat to cuddle up with, if you're so inclined!
Put blankets on display using a quilt rack. No need to buy an expensive blanket display rack; an old wooden ladder will do.
Bed cold? Switch to flannel sheets during the winter, and add an extra blanket or a down comforter. Use an old-fashioned hot water bottle or an electric heating pad to warm up the bed in the evening.
Lots of light! Turn on table lamps with the newer LED bulbs that now come in warm hues reminiscent of soft incandescent light bulbs. Hang strings of light for glow and warmth. Light the candles too.
Run your ceiling fans on the "winter" setting. This reverses the fans to move the warm air that has risen to the ceiling down into the room where its warmth is needed.
Use the oven! Bake bread and cookies, roast a chicken, cook a casserole! Add warmth and a wonderful aroma. Or fake the warmth and homely goodness by simmering something sweet-smelling on the stove top.
Books add comfort and character to any room. Good for acoustics too. Create a reading nook with a comfy chair, a big fluffy afghan and a good reading lamp.
Dry winter air often makes a room feel chilly. Run your humidifier to add moisture and warmth.
Lots of green plants and fresh flowers for increased oxygen and moisture will lend a soothing air and make your home cleaner too.
Hang art that pleases you and display family photos.
Soft soothing music!
If you're looking to sell your home in the winter, a warm friendly atmosphere appeals to buyers!
Call or text me at 780-910-9669, email me at barry@barryt.ca, or contact me here.