Home Inspection Revisited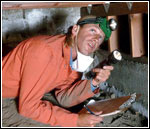 When you bought your home in Spruce Grove, Stony Plain, Parkland County or the Edmonton area, you probably had it inspected to ensure that you weren't buying someone else's maintenance headaches.   In an Edmonton Journal article published October 1, 2011 ("Why you need your home inspected now"), Mike Holmes makes a strong case for what he calls the maintenance inspection:  getting your home inspected on a regular basis – as often as every 3 years – to determine what, if any, repairs need to be done to your home.  The report generated from the inspection will give you a timeline on when the work should be done along with a rough estimate of the cost.  As Mike Holmes points out, the best way to protect the biggest investment you'll ever make is through preventive maintenance, and spending a few hundred dollars now on an inspection could save you thousands in costly repairs later on.  Read the article for more reasons why you should revisit your home inspection.
Comments or questions about this article?  Call me at 780-910-9669, email me at barry@barryt.ca, or contact me here.