Spring Run-off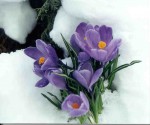 Ah, spring.  Warm sunny days, robins returning, snow disappearing – and water everywhere.  As a home owner in Spruce Grove, Stony Plain, Parkland County, the Edmonton region or elsewhere, you do everything you can to protect your property.  Would it surprise you to learn that the leading cause of damage to property is not break-ins or fire or wild winds, but water?  In fact, more than half of all insurance claims, about 1.3 billion dollars' worth in Canada, are due to water damage.  This type of claim is likely to increase as infrastructure ages, the climate changes, and home owners finish every square foot of their dwellings.
We've all seen the stories in the media about flood damage in Manitoba and parts of the US, but that type of large-scale catastrophe is less common than all the other ways water can ruin a home.  And most of the everyday type of water damage, caused by a leaky roof, backed-up sewer or spring run-off, is preventable.  Here are a few things you can do to minimize water problems:
Walk around the entire outside of your home, keeping your eyes open for all the places water could get in.
Does the grade slope away from your home without any dips where the ground has settled?  There should be no area where water drains back toward the house.
Do the downspouts from eavestroughs extend at least 6 feet from the house?
Do all doors and windows fit snugly without any cracks where water could seep in?
As spring approaches, are you diligent about clearing snow and ice away from your home?
Inspect the roof for missing or damaged shingles and repair any problems.  If your roof is older than 15 years, it might be time for a whole new roof.
Are the eavestrough gutters free and clear of debris so that water can flow freely off the roof?
Check seals around chimneys, skylights and vents to ensure they are water-tight.
Regularly check all plumbing (including your hot water tank) and appliances for leaks, and for trouble signs such as rust around a faucet or corrosion around the washing machine hose.  One trick for testing whether a toilet is leaking:  Add food coloring to the tank.  If the color seeps into the bowl after about 20 minutes, you have a leak.
Burst pipes can cause a major mess.  Besides checking for leaks, check that insulation in these areas is adequate.
Consider installing a sump pump, backwater valve or water sensor, if you don't already have these items.
Examine all ceilings for stains which could indicate spots where water has gotten in.
If you store valuable items in the basement, put them in plastic bins up off the floor.
Don't run appliances such as dishwasher or washing machine when nobody is home.
A few other suggestions:
When you leave on vacation, even for a long weekend, have someone do regular checks of your residence.  Check all taps and faucets before you leave (turn off the water to the washing machine!), and consider even turning off the main water valve.
Review your insurance coverage to make sure you are covered for water perils such as sewer backup and the like.
If your home is starting to show its age, consider hiring a home inspector to go over your home with you, looking specifically for problem areas before they develop into full-blown trouble.
I love to hear your comments or questions!  Call or text me at 780-910-9669, email me at barry@barryt.ca, or contact me here.
Tags: Home Inspection, home maintenance, home repair, water damage