The River Valley Alliance
One of Edmonton's nicknames is River City, and the River Valley Alliance is working hard to make that much more than a catchy phrase.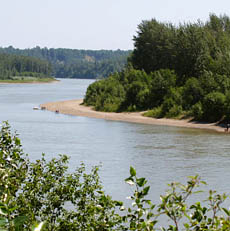 Haven't heard of the River Valley Alliance?  If you are someone who enjoys spending time outdoors and who is concerned about preserving the natural beauty around us for generations to come, this is something you'll want to learn about and get involved in.
The goal of the River Valley Alliance since 1996 has been to "Preserve, Protect and Enhance" the valley of the North Saskatchewan River.  Seven municipalities within the valley (Town of Devon, Parkland County, Leduc County, City of Edmonton, Strathcona County, Sturgeon County and City of Fort Saskatchewan) collaborate to create a continuous river valley park system connecting the 22+ parks and numerous trails in Alberta's Capital Region, stretching all the way from Devon to Fort Saskatchewan.  The end product is a continuous span of 88 km, longer than any other urban park in North America. At 18,000 acres, it is also one of the largest, making it 22 times bigger than Central Park in New York City. 
The official River Valley Alliance brochure points out that "the River Valley is a defining symbol of Alberta's Capital Region, a green corridor along the North Saskatchewan River that offers:
a preserve for wildlife and native vegetation

an escape to nature for residents and visitors

opportunities for year round outdoor recreation, family fun and community events

a place to connect to others and with yourself"

RVA's main role is to coordinate planning and development along the river valley and to access financial and public support for the project.
RVA's brochure also suggests several ways each of us can get involved in this very worthy undertaking:
"Visit the river valley – share the experience with family and friends
Show your pride – tell people about this unique feature and RVA's work
Participate – share your river valley stories, photos and videos
Donate – donate to RVA's work through Canada Helps, corporate giving, or in-kind donations
Connect – contact us or subscribe online to RVA's e-newsletter:
River Valley Alliance, P.O. Box 2359, Edmonton AB T5J 2R7
Thanks to the fine folks at River Valley Alliance for allowing me to quote from their brochure and use their content! 
Comments or questions about this article or about real estate near the river?  Call or text me at 780-910-9669, email me at barry@barryt.ca, or contact me here.
Tags: environment, green living, North Saskatchewan River, parkland county real estate