Friday, June 19th, 2015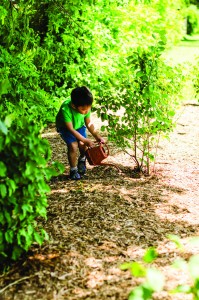 Whether you have just a few minutes or are planning a large community project, every action can have a positive impact when it comes to greening our communities of Spruce Grove, Stony Plain, Parkland County or Edmonton. To help you get started this summer, and in celebration of its 25th anniversary, TD Friends of the Environment Foundation is sharing 25 easy ways to green where you live.
1. Volunteer for community greening projects
2. Pick up garbage at a local park
3. Volunteer at a community garden (or start one in Spruce Grove or Stony Plain)
4. Help build or teach at an outdoor classroom
5. Plant a tree (or many trees) that are native to our region
6. Put up a bird feeder or plant a butterfly garden
7. Plan a local shoreline cleanup
8. Host an eco-friendly party using biodegradable cutlery and food from local sources (Remember that Spruce Grove will help you host a Block Party.)
9. Walk, bike or take public transit instead of driving
10. Participate in your community's recycling program
11. Upcycle old or out of date items around the home
12. Compost leftover food waste
13. Donate proceeds from a garage sale to local greening projects or your TD FEF chapter (tdfef.com)
14. Use organic fertilizer on your lawn
15. Collect rainwater and use it for your plants
16. Get a push mower for your lawn
17. Water your lawn deeply only once or twice a week
18. Participate in Meatless Monday
19. Learn about invasive species of plants and help with their removal
20. Add raised planters or container gardens to help green a paved play space
21. Start a "friends of" club to help protect your local parks and green spaces
22. Make sure to properly dispose of items like batteries and paint
23. Organize a carpool to work, school or day-camp
24. Create an adopt-a-tree program in your community
25. Use more natural cleaning products in your home
Donating and volunteering with an environmental organization can make a big difference. TD Friends of the Environment Foundation uses 100 per cent of funds donated to directly support local environmental projects. Since 1990, over $70 million has been raised to support more than 23,000 community initiatives. To learn about volunteering opportunities to help green where you live, visit www.tdtreedays.com.
What are your favorite ways of helping the environment?  Call or text me at 780-910-9669, email me at barry@barryt.ca, or contact me here.
(Most of the content of this article courtesy of www.newscanada.com)