Flooded Basement? Prevention and Cure!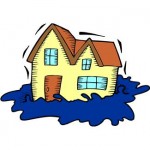 How dry is your Spruce Grove, Stony Plain, Parkland County or Edmonton area basement?  With one of the wettest summers on record upon us, you might be one of those unfortunate homeowners dealing with a flooded basement.  Whether you're in the process of cleaning up, or you've been spared so far and want to stay that way, check out the following for some good advice:
Preventing the Problem
"Steps you can take to prevent basement flooding", published in the Saturday, July 21, 2012 edition of the Edmonton Journal.
"The Homeowner's Guide to Flood Prevention", produced by the City of Edmonton.
"Before Flooding", concise and comprehensive factsheet from Alberta Municipal Affairs, Emergency Management Alberta.
"Avoiding Basement Flooding", factsheet from CMHC.
"Protect Your Home From Basement Flooding", from the Institute for Catastrophic Loss Reduction  (includes a handy score sheet to determine your risk for flooding).  View their video "Reduce basement flooding".
Check out also "City of Spruce Grove Homeowner's Guide to Lot Grading"  and Spruce Grove's "Residential Lot Grading and Maintenance" information sheet and regulations.
What to Do After a Flood
"Cleaning your home after a flood", Alberta Health Services.
"Flood Disaster: What to do before, during and after flooding", excellent and detailed booklet from Alberta Municipal Affairs, Emergency Management Alberta.
"After the Flood:  A Homeowner's Checklist", factsheet from CMHC.
"Cleaning Up Your House After a Flood", CMHC free download.
"A Guide to Fixing Your Damp Basement", available from CMHC for $9.95.
"Cleaning Up After the Flood: a guide for homeowners", Saskatchewan Ministry of Health.
City of Spruce Grove Disaster Recovery Program 
See also my blog article entitled "Spring Run-off", posted April 10, 2012.
Comments or questions about this article?  Call or text me at 780-910-9669, email me at barry@barryt.ca, or contact me here.
Tags: cleaning, disasters, emergency preparedness, flooding, home repair, home security