Family Central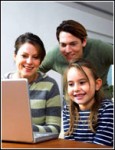 Does your Spruce Grove, Stony Plain, Parkland County or Edmonton-area home have a special dedicated room or home office that functions as the "business hub" of your family's activities?  Where the kids do their homework, mom and dad pay the bills, family members update schedules, store keys, phones, laptops and other important items that need to be grabbed before leaving the house?  No?  Well, you're not alone in wishing for a magic solution to the problem of keeping everybody organized and the house clutter-free!  With today's busy lifestyles, it's no wonder that many people can't find their dining room tables and kitchen counters under the daily avalanche of school papers, mail, newspapers and magazines, electronic devices and much more.
An article in the January 26, 2013 edition of the Edmonton Journal entitled "Building the perfect family hub" addresses the questions of what is needed to create a family organization center, how to find the space, and how to make it all work in even the smallest of homes. 
According to the article, the most important items needed in the center are a calendar for keeping track of everybody's schedules, a message board (dry erase or corkboard) for posting and sharing information, a bin or section of corkboard for each family member's own current information needs (such as school permission slips), and a power strip and shelf for charging electronic devices.  A work surface for homework and the like is also ideal, as well as a laptop or computer for checking email, doing research, etc. 
But where to put this?  A room such as the bonus room found in many of today's newer homes or a mudroom would be great, but not necessary according to the authors of the article.  Instead, there are numerous other options, such as converting a pantry cupboard or small closet into a desktop with storage above, seating below.  Even a single kitchen cabinet can serve when space is really tight.  For some excellent visuals, take a look at my Pinterest board "Great Little Spaces".  The key is defining the purpose for the space chosen as the family hub. 
If you are lucky enough to have a room-size space available, you can furnish it lavishly with a built-in desk and storage, or more economically with items from around the house or from garage sales – whatever will fit the budget and the needs of your family.   
This leads to the final aspect of such a center, making it work.  Again, let your own family's needs be your guide.  Bright colors and an attractive space along with a firm commitment to use this area as THE spot for family business go a long way to keeping the rest of the house tidy and organized!  Check out the article for more details and ideas. 
Looking for just the right home to meet your family's needs?  Call or text me at 780-910-9669, email me at barry@barryt.ca, or contact me here. 
Tags: de-cluttering, family living, interior decorating, organization