Friday, September 12th, 2014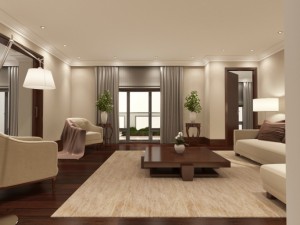 If you're selling your home in Spruce Grove, Stony Plain, Parkland County or the Edmonton region, it's important to ensure that you make it look appealing to buyers. Increasing your home's appeal will make buyers more likely to put down an offer – and can even boost the final selling price. Even something as simple as lighting can increase your home's resale value. Take advantage of these lighting tips to make your home sale quick and profitable.
Outdoor Lighting: It's All About Curb Appeal
Use outdoor lighting to enhance your home's appearance and create an alluring atmosphere. Adding lighting to landscaped areas creates interesting contrasts of light and shadow that will catch your buyers' eyes. You can add emphasis to landscaping by using uplighting for trees and shrubbery. Adding mood lighting to a patio area makes it appear more welcoming. Lighting dark areas of your property is also a good security measure, and it may prevent someone from slipping or falling. Individual solar lights can be installed along a walkway for safety and to improve the appearance of the property.
Entryway Lighting: First Impressions Count
The first impression anyone has of your home is when they walk through the front door. One of the easiest ways to increase the value of your home and add to its appeal is by making simple cosmetic changes to the interior. You don't have to spend a lot of money to give your home a fresh, new look. A chandelier in a large foyer makes a dramatic impression. It can be simple or elaborate, depending on your decor. An entryway table with a decorative lamp and soft lighting is also a nice touch.
Kitchen Lighting: Practicality is Key
Kitchens usually have plenty of overhead lighting, but not enough light for specific tasks like cutting or washing food. Direct lighting in specific areas makes it easier to see when preparing food, which makes your kitchen more functional. Fluorescent lighting is easy to install underneath kitchen cabinets, giving your kitchen the practical lighting it needs.
Ceiling Fans: Lighting With Style
Ceiling fans with installed light fixtures can be placed in any room and are easy to install. The vast array of styles makes it easy to find ceiling fans that complement your home's decor. Not only do they provide more light, but they also increase the airflow through your home.
Lighting Living Spaces: Use Full Spectrum Bulbs for a Richer Environment
The living room or family room is where families spend a lot of their leisure time. Overhead lighting is a good choice for entertaining, but if you want an atmosphere that's more relaxing, you can use lamps containing full spectrum bulbs. Full spectrum light bulbs are bulbs that mimic the appearance of natural light. Dimmer switches in the living areas are perfect for times when a lot of light isn't necessary. When selling your home, show it off to its advantage by taking advantage of natural light, especially if you have a nice view.
Lighting for Dark Areas: Soft Lights Add Nuance
If you don't already have them, install dimmer switches in your bedrooms to achieve a comforting, relaxing appearance. Use soft lighting in bedside lamps. Softer lights can make dark areas of your home feel more cozy and inviting. You can buy decorative night lights to add atmosphere to a darkened hallway.
The proper lighting has the ability to transform any living space and make it more appealing. With the right lighting in every room, you can make your home more appealing to buyers – and you might even sell it for a higher price.
I am always available to answer questions you may have about enhancing the resale value of your home.  Call or text me at 780-910-9669, email me at barry@barryt.ca, or contact me here.