Buying Your First Home? Start With Your Lifestyle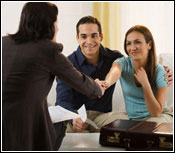 Buying a first home is one of the most exciting yet daunting decisions young couples or single people in Spruce Grove, Stony Plain, Parkland County, the Edmonton region and elsewhere make. It's easy to feel overwhelmed by the thousands of things to consider. It's also easy to be swayed by emotion instead of focusing on the practical.
But, to begin the process, go ahead and dream a little! What does your perfect house look like? What kind of home is it? What features does it have? What do you need to live the life you want to live? What does your home have to have so that you can show the world how mature and responsible you are, what great personal style you have?
But…  Stop right there and step back for a minute. Before you settle on type of home (single family, duplex, townhouse, condo, etc.) or style of home (2-storey, bungalow, bi-level, etc.) or the number of bedrooms or the style of faucets in the bathrooms or the color of paint on the walls… The list of features is endless and every single house, like every person you'll ever meet in your life, is unique. You can no more order the exact house you believe you want (unless you're a trust fund baby and I'm assuming you're not!) than you can order the perfect mate. So let's approach this from a different angle.
Let's talk about lifestyle and how it impacts your home, as well as how you foresee your lifestyle evolving over time. Which home buyer are you? Young and single, likes to be in the centre of things, no vehicle? You're going to need a different style of home and probably neighbourhood than a family of two working parents with kids involved in school and many activities, or an older retired couple who like to travel. Some things to consider:
Your occupation (work space needed at home?)
Your leisure time pursuits (space for working on hobbies? storage for leisure time equipment? entertaining at home?)
Sociability (do you enjoy having many people living close by or do you need space and quiet?)
Access to amenities (do you want things like restaurants, shops, entertainment venues, health facilities, parks to be in close proximity, maybe even walking distance?)
Your vehicle situation (public transit user or someone who drives everywhere?)
The number of people (or pets) you envision living with you (how do you see your life changing in the next few years?)
The length of time you expect to live in this home (if less than 6 years, buying a home might not be the best option financially)
Your "handiness" level (do you need a home where everything has been done, or are you willing to take on a home that needs some fixing up? What about your skill in maintaining the property?)
I'm sure you can think of many things to add to this list. The point is that the person you are today and the person you see yourself becoming have a huge influence on the type of home that is just right for you.
Notice I haven't said a word about the financial requirements for getting into home ownership. That aspect will follow in due course once you have a clear idea about what you need and want in a home. Once you have completed your lifestyle analysis, please read my companion blog article "Buying Your First Home? 8 Tips to Guide You Through the Process".
Ready to start looking at homes to make the purchase of a lifetime? I would be pleased and honored to help you! Call or text me at 780-910-9669, email me at barry@barryt.ca, or contact me here.
Tags: first time home buyer, home buying