Winter Energy Saving Tips for Your Spruce Grove Home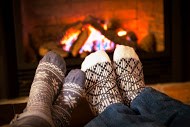 For most of us in Spruce Grove, Stony Plain, Parkland County and the Edmonton region, winter means a spike in our power and gas bills as we use more energy to heat and light our homes. Check out the tips below to save some money and help the planet.
Save Power
Install timers and power-saver cords for automobile block heaters and interior car heaters.
Adjust lighting timers as daylight hours decrease and then increase throughout the winter.
Incandescent light bulbs are being phased out this year. Replace them now with the newer more energy-efficient CFL and LED bulbs.
Yes, we need more light during the winter, but light up just the spaces you are using. Turn off the lights when you leave a room.
Run appliances at out-of-peak hours, such as late at night, and turn off everything when not in use.
Think low-tech solutions. For example, use a clothesline for drying some clothing items instead of your dryer. This has many advantages: saves power and money; better for many garments; adds moisture to your home.
Your Home Heating System
Get a qualified contractor to check the heating system to make sure it's operating at optimum efficiency.
Check air supply vents and return air vents to make sure air is circulating freely. Keep furniture and appliances away from vents, and plan to have your furnace ducts professionally cleaned late in each summer.
Clean your furnace filter regularly – at least once per month – and replace every 3 months. Doing this can save you up to 5% on heating costs. Did you know you can install a special alarm on your furnace that will let you know when it is time to change your filter? These alarms will make a whistling sound when they sense that the filters are dirty.
Turn down the thermostat at night and during the day when you are away by up to 4 degrees C. Every 1 degree C. set back can save up to 2% in energy costs!
Keep that thermostat turned down a degree or two and bring out the sweaters and blankets.
Consider installing a programmable thermostat to make those set-backs automatic.
The new high-efficiency furnaces can save mega bucks! But if you're not ready to replace your furnace, at least consider a tune-up which can save 3-10% on your heating bill.
Avoid heating uninsulated spaces such as the garage or cold storage room. Check doors leading to these spaces and replace with insulated doors if necessary.
Close doors and air supply registers in unused rooms.
Reverse your ceiling fans in winter to circulate warm air down.
Take advantage of whatever natural heat there may be by opening draperies during the day on south-facing windows and closing them at night.
Keep the Heat in Your Home
Have your home's insulation assessed to determine if you need to add to it. Proper insulation will save money in heating costs during the winter and keep your home cooler in summer. DIY tip: Measure the thickness of your attic insulation. If there is less than R-22 (7 inches of fibreglass or rock wool or 6 inches of cellulose) you'll benefit by adding more. Also, consider installing some roof vents and inlets to improve ventilation.
Look for dirty spots in your insulation. These may be signs of air leaks which can be repaired by stapling sheets of plastic over the holes and caulking the edge of the plastic.
Place clear plastic sheeting on your windows sometime in the fall to keep out the cold air and prevent warm air from escaping for very little cost. Use weather stripping on doors and windows and seals on exterior wall outlets. Put caulking on window and door frames, and seal around vents and cable or wire wall entries.
Did you replace your carpets with laminate and hardwood and now the floors are cold? Oops. Put down an area rug to add a little warmth and cut down on noise.
If you have a fireplace, make sure the damper is closed when the fireplace is not in use to prevent warm inside air from escaping up the chimney. Check the seal on the flue damper and make it good and tight. Tempered glass doors and a heat-air exchange system that blows warm air into the room will also help preserve the warmth.
Not exactly insulation, but something else to warm up your home. Moist air is warmer than dry air so add humidity to your home with portable humidifiers or an attachment to your heating system, as well as an aquarium and houseplants.
Keep the doors (interior and exterior) to your attached garage closed as much as possible. This keeps your garage warmer and also lets less cold air into the house.
If you have an unfinished basement, heat could be escaping along the joist cavities. Insulate the walls for major savings in money and comfort.
Even though window blinds and shutters are more fashionable at the moment, quilted curtains and insulated draperies keep your home warmer.
Plant some trees in your yard in the spring! Besides beautifying your yard, they'll protect your home from winter wind and summer sun, as well as helping the environment by absorbing carbon dioxide and releasing oxygen.
Want even more tips on this topic? Read my previous blog article "Winter Isn't for Wimps!"
Looking for a great energy-efficient home? Call or text me at 780-910-9669, email me at barry@barryt.ca, or contact me here.
Tags: energy efficiency, green living, home infrastructure, home maintenance, Money-saving ideas