Wednesday, November 25th, 2015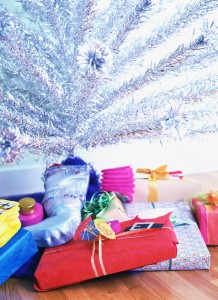 Gift-giving season is nearly upon us in Spruce Grove, Stony Plain, Parkland County and the Edmonton region. Saving energy and helping the environment are good no matter what season it is. If you prefer giving gifts that are useful and practical, you're sure to find something to please on this list of energy efficient gifts. And your gift will help the recipient to use less energy and save money too.
For the home improvement fanatic:
LED or CFL lights
Bulbs, lamps, reading lights
Home energy monitor, such as the Kill-a-Watt monitor available from Amazon.ca
Allows the user to track the amount of electricity being consumed by various devices.
Faucet aerators and low-flow showerheads
Programmable thermostat
Window insulating kit
Plugs for unused electrical outlets
Did you know that up to 20% of air leakage from your home can occur through outlets?
Ceiling fans
Keep your home warmer in winter, cooler in summer and help with humidity all year round.
For the home cook and bottle washer:
Pressure cooker
This old-fashioned pot uses up to 70% less energy than traditional cooking and cooks food faster too.
Tea towels
Who says everything has to be washed in the dishwasher!
Cold water laundry detergent
Single-use packs make a good stocking stuffer gift.
Energy Star rated appliances of all kinds
For the device geek:
Power bar
These come with all sorts of innovations, such as integrated timer, auto shutoff, and special sockets for charging mobile devices
Solar-powered cell phone and battery chargers
Solar backpack
Looks like a regular student backpack but can charge electronic devices. (Check out this one called the SolarGoPack from Amazon.)
For the survival dude:
Battery powered radio in case of power outages
LED flashlight
Or how about this hand-crank flashlight from Ikea?  Great gift for kids too.
Portable solar panel kit
The GoalZero Guide 10 Adventure Kit allows you to charge all sorts of things, such as USB powered devices, phones, tablets, flashlight batteries, and emergency radios.
Do you have more ideas to add to this list? Call or text me at 780-910-9669, email me at barry@barryt.ca, or contact me here.