Tuesday, September 2nd, 2014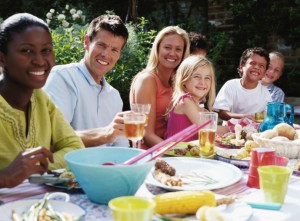 If you're a resident of Spruce Grove, Stony Plain, Parkland County and the Edmonton region, you should know that there are many opportunities to get involved in the local community and have some fun. Edmonton's Community League Day is coming this September, and it's not an event you want to miss. On September 20th, come out to Community League Day and find out why your local Edmonton community league is "Where Neighbours Meet & Great Things Happen."
About the Edmonton Federation of Community Leagues
The Edmonton Federation of Community Leagues sponsors this city-wide event, which is held every year on the third Saturday of September. Edmonton's community leagues are the oldest and most active in Canada. The EFCL was founded in 1921 with one neighbourhood group, and has expanded over the years. Today, there are 147 chapters of community leagues all over Edmonton.
The leagues are all volunteer organizations that focus on creating recreation opportunities in Edmonton. They've been responsible for sports fields, community activity halls, and ice skating rinks. Some of the most popular organizations in Edmonton, including the Community Police Radio Network, School Patrols, and Neighbourhood Watch, began with the Edmonton Community Leagues.
League Sponsored Family Events
The biggest event of the year for the EFCL is the Community League Day, although various community leagues throughout the city sponsor family events all year-round. Family days and winter carnivals are fun activities for families and include curling, hockey, snowshoeing, and ice skating. Participants are treated to hot dogs, chili, and hot chocolate around a fire pit, followed by fireworks.
Community League Day on September 20
The annual Community League Day on  Saturday, September 20, promises to be fun and exciting for the entire family. Check with the community league in your neighbourhood to find a schedule of the day's events. You can expect Edmonton to celebrate this day with lots of fun family activities, like Fall festivals, car shows, street dances, bike rodeos, corn roasts, beer gardens, barbecues, pancake breakfasts, and much more.
The Edmonton Annual Community League Day gives families the opportunity to participate in all the celebrations throughout the city, but it also give residents a chance to celebrate Canada's multicultural heritage with lots of cultural activities.
What to Expect at Community League Day
Community League Day is set to host lots of great fun like live entertainment, balloon animals, face painting, dog agility demonstrations, dancing, horse-drawn wagon rides, and lots of games for the kids. The annual event has the atmosphere of an old-fashioned fall festival. The 2014 celebration kicks off at 9:00 AM, and ends at 11:45 PM on September 20. Make sure to come early to enjoy all the day's festivities in your neighbourhood. There's sure to be plenty of fun activities, music, live entertainment, and great street food to enjoy.
Edmonton's 2014 Community League Day is sure to be good, wholesome fun. You can join the festivities at one location or plan to visit several around the city.
I'd be happy to answer any questions you have about events in our region.  For more information about Community League Day or any of the other events Edmonton hosts, please call or text me at 780-910-9669, email me at barry@barryt.ca, or contact me here.