Thursday, June 4th, 2015
I've written before about some of my activities with the Rotary Club of Spruce Grove. I enjoy helping other people, and I find that this club allows me to get involved in causes I might not have otherwise been aware of.
Recently, Spruce Grove Rotarians were asked to volunteer in support of a local organization called YouCanRide2.  This organization held an event a few months ago at Broxton Park School in Spruce Grove that was both rewarding and inspiring.

YouCanRide2 adapts bicycles for kids with special needs and teaches them to ride. These kids suffer from conditions such as Down syndrome, spina bifida, cerebral palsy and autism. In some cases, these kids may never walk, but they can be taught to ride a bike. This one thing can have a major impact on these children and their families, bringing mobility to children who may have never experienced it before, and improved mental health to the most vulnerable in our community.
At the heart of YouCanRide2 are 3 pediatric physiotherapists: Janine Halayko, Melanie Harris, and Trent Magis. These three core people coordinate the large team of dedicated volunteers needed to run the "Borrow a Bike" program. The need for this program became evident when Janine was working with a child with cerebral palsy to teach him how to ride a bike. After 8 months of effort, and trial and error, she realized that no ordinary bike even with adaptations would do. The $3000 bike this child needed to be independent was far too expensive for the family, and could not be covered by any other agency. With the support of the Edmonton Bicycle Commuters Society and Trent's help, the idea for the "Borrow a Bike" program was born.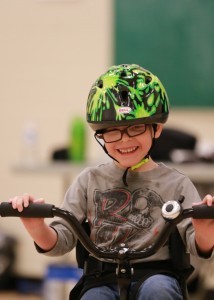 This story is not just about the children and families who are helped. It is about determination and volunteerism. Determination happens when everyone around you tells you what you are trying to do is too difficult to accomplish. And this is also about volunteerism – on steroids! Two of YouCanRide2's core people are working moms with 3 children each of their own. Yet, they can volunteer 20-30 hours a week supporting this cause, and inspiring and leading dozens of other volunteers to help needy children.
YouCanRide2 is unique to Alberta and probably unique to all of Canada. Some of the bikes are donated, but they still require adapting to a specific child's needs. For some of the more severely challenged, specialized bikes can run as high as $5000. Money is also needed for storage and transport of the bikes. This year, the goal of YouCanRide2 is to adapt 100 bikes for kids in the Edmonton area.
At the Rotary Club's annual Lobsterfest, held this year on May 30, 2015, I made a video appeal for funding for this worthwhile organization, and I am delighted to report that the astounding sum of $91,000 was raised! I am overwhelmed by the compassion and generosity of Spruce Grove and area residents, and I know that YouCanRide2 will be able to do so much good with the money.
If you would like to contribute money, bikes that could be adapted, or expertise, please contact me, or get in touch with YouCanRide2 directly through their website.  Believe me, you'll feel good for helping out!
Can you help? Please call or text me at 780-910-9669, email me at barry@barryt.ca, or contact me here.
(Photos used in this post are from You Can Ride Two's website at http://www.youcanridetwo.ca/)