Friday, December 12th, 2014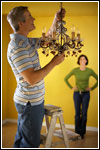 If you're looking to complete a property flipping project in one of Alberta's sought-after neighbourhoods like Spruce Grove, Stony Plain, Parkland County, or the Edmonton region, you're in for a fun and rewarding experience. Just as it is a fun hobby to some or a means of added income for others, property flipping can also be a business or main source of income for many people who are well versed with real estate and renovations. There are a variety of reasons why you might want to flip a piece of Parkland County real estate or one of the many Edmonton acreages available for purchase. Before you start, though, it's important that you understand what you're getting into. If you're looking to flip a piece of Edmonton real estate, consider these advantages and disadvantages before committing to the project.
Pro: Great Financial Gain
Of course, the number one advantage of property flipping is the financial gain that so many people achieve. Many people have amassed significant wealth with a simple property purchase, renovation, and sale at the right place and the right time. A major part of their success involved having a solid understanding of the trends in the real estate market. If you can buy and sell at the right time, you could earn a lot of money simply by flipping a property.
Con: Relatively High Risk
One major disadvantage when it comes to property flipping is the relatively high risk involved. In order to profit from a property flip, you will need to buy low, invest into the property, and sell high. This means leveraging changes in the market – knowing when prices will drop and when they will rise. Either buying or selling at the wrong time will greatly reduce your property's value – and if you happen to both buy at a poor time and sell at a poor time, you could find that your newly renovated property is worth less than it was worth when you purchased it.
Pro: A Fun Project
Many property flippers who thoroughly enjoy the project have a keen sense of interior design or a good grasp of home renovations and improvement, or both. Having a passion for design and renovation will certainly help to make property flipping a fun and rewarding experience. This is especially true for home flippers who are able to undertake certain home renovation or decorating projects themselves, without having to involve too many contractors. First and foremost, your property flip should be a labour of love.
Con: A Big Mess
For those who don't have an understanding of home renovations, especially for those hiring contractors for the first time, it is common to find yourself in a big mess – both literally and figuratively – when it comes to renovating the home in preparation for its sale. When dealing with contractors, it's very common for things to run behind schedule or for fees to go well above what was initially quoted. A property flip is a major project with all sorts of intricate details, and there are a thousand different things that could go very, very wrong. If you're not prepared to take that risk and deal with the fallout, you will neither enjoy nor profit from a house flip.
If you are interested in undertaking a project with a piece of Spruce Grove real estate, Stony Plain real estate, or Parkland County acreages, you can find immediate financial benefits as well as longer term financial gains in each of these areas. Most importantly, it's crucial to understand your own qualifications and knowledge when it comes to property flipping, and to be able to assess your ability to deal with challenges that will arise when you flip a property.
For a better understanding of what's involved in property flipping, I'm always happy to answer your questions. Feel free to call or text me at 780-910-9669, email me at barry@barryt.ca, or contact me here.