Home Staging Starts With De-cluttering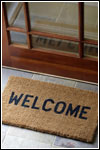 In my business, as I travel around Stony Plain, Spruce Grove, Parkland County and the Edmonton area, I see a lot of homes.  Very few of those homes, if they are currently being lived in, resemble "show homes".  That's because, let's face it, living is messy.  Evidence of everyday life is everywhere, from wet towels flung over the shower in the master ensuite to children's artwork clipped to the fridge with magnets given away by local businesses to untidy piles of unread mail atop the dining room table to empty bottles waiting to be taken to the recycle centre, along with the smells of this morning's breakfast bacon and a cat litter box overdue for cleaning….  You get the picture!
***Given the competitiveness of today's real estate market, it's not enough to hang the towels neatly on a towel rack and spray the air with room deodorizer.  The fact that professional home stagers even exist suggests that having your home sell quickly and for a good price requires much more these days.***
Homebuying.about.com has this to say about Home Staging:
"Home staging is about illusions. It's how David Copperfield would sell a house. It's beyond decorating and cleaning. It's about perfecting the art of creating moods. Staging makes your house look bigger, brighter, cleaner, warmer, more loving and, best of all, it makes home buyers want to buy it.
 "Contrary to what you might think, it's about more than preparing the house for sale. Staging is what you do after you've cleaned, de-cluttered, painted, made minor repairs; it's all about dressing the house for sale.
 "It's about adding the small details: the lipstick, mascara and, for simplicity, a stunning, single strand of Tahitian pearls."
So, how do we get from the lived-in look I described in my first paragraph to the artistry of a staged home? 

Let's start with de-cluttering.  If the very word makes you shudder, you are not alone!  But we all know it's a worthy activity for many reasons, even more so if the home we're living in is about to be put on the market.
In a perfect world, de-cluttering is something we do as part of our regular routine, along with sanitizing the bathrooms and vacuuming the carpets.  For example, mail gets opened over the shredder and the trash can, with just the essentials kept for future needs (stored somewhere handy and inconspicuous).  Daily newspaper goes into the recycle bin after being read.  And so on.  But clutter has an insidious way of building up to overwhelming proportions.  Yesterday's perfectly acceptable possessions – take VHS videotapes, for example – are, all of a sudden, today's clutter, no longer needed, wanted or useful.  How did that happen?!
And, more to the point, what do we do about it?  Where to start?   It may help to read books and magazine articles on de-cluttering and getting organized, or to visit some of the thousands of websites that tell you why and how to do it (see a few below), or even to hire a professional organizer, but at its simplest and yet most difficult, de-cluttering is about making hard decisions.  It's about focusing on the life lived in the space, rather than the stuff in the space.  
We are the only ones who can decide what items are trash (throw them away!), what things we no longer need or want but still have value (sell them or give them away!), and which few items we really love and need and use on a regular basis (keep them!).
Ideally, we end up with just the things that contribute to the life we want to live in small enough numbers that our home appears tidy and spacious, yet still reflects the life of the occupants.  Then, maybe, our home is ready to be staged for selling.
De-cluttering Websites:
100 Reasons to Get Rid Of It (from Martha Stewart)
Declutter, declutter, declutter!
Declutter Forever: Home Organize It!
Decluttering for Home and Head
Fly.lady.net:  How to Declutter [this is an excellent website for all kinds of home management tasks]
Green Interior Decluttering Process
Living Gently Quarterly: Spring Decluttering
The Super Easy Approach to Decluttering Your Home
Tips for Decluttering Your Home When Downsizing
Ready to put your newly de-cluttered home on the market?  Contact me here, email me at barry@barryt.ca, or phone me at 780-910-9669.

Tags: downsizing, home maintenance, home sales, Tips For Home Sellers