Why Bother With a Building Permit?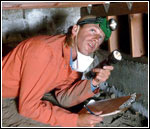 If you're thinking of renovating your home in Spruce Grove, Stony Plain, Parkland County, the Edmonton region or elsewhere, there is something you need to read before you even think of visiting the local Home Depot or hiring a contractor.
An article by Mike Holmes in the January 14, 2012 edition of the Edmonton Journal entitled "No building permit? You're asking for trouble" (posted online as "Before renovating, get the proper permits — or you'll regret it") gives the details about why this document is so critical.
In fact, having a building permit is one of the best things you can do to protect yourself and the time and money you invest in a renovation.  That little piece of paper comes with inspections by municipal building inspectors who check the work to see that it's safe and built to code.
Why is this important?  For starters, you may not know that municipal officials can force you to shut down a project without a permit or even tear down completed work that hasn't been inspected.  Work that hasn't been inspected may be fine – but we hear far too many stories about unlicensed contractors doing shoddy work that not only brings down the value of your property but may end up damaging and destroying other properties in your neighborhood.  A permit may cost you a few dollars and a bit of time, but having things done right is worth it.
Read Mike Holmes' article for the full story.
Looking for property to fix up and rent out or flip?  I can help you find just the right place.  Call me at 780-910-9669, email me at barry@barryt.ca, or contact me here.