Tuesday, June 24th, 2014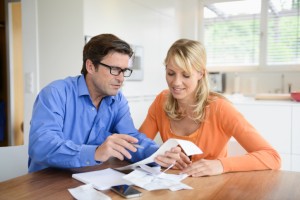 If you're looking to purchase a home in Parkland County, Stony Plain, Spruce Grove or the Edmonton area, you might be wondering how you can reasonably determine what your price range is. Though you may have the ability to afford up to a particular amount, you should also ensure that you don't overextend yourself. Make sure to leave room for the "just-in-case" expenses, and follow these tips to ensure you are remaining within your reasonable and affordable budget.
Get Expert Advice: Talk With Your Mortgage Specialist
First things first, before you begin your property search, whether you're looking for Parkland County acreages, Edmonton acreages, or surrounding area, you should ensure you have an open and honest discussion with your mortgage broker or the mortgage specialist at your bank. When you are preparing for your meeting, ensure that you have your employment and income documentation to bring with you, as well as your previous year's tax return. You should also have a list of any monthly expenses, and supporting documentation, such as information on car payments, student loans, and other monthly expenses.
Be sure you are honest and provide complete information to your mortgage broker regarding your income and monthly expenses, as this will help them determine what your affordable and realistic purchasing budget is.
Don't Forget the Extras: Factor In Additional Expenses
When you are planning your affordable budget for your Spruce Grove real estate, either with or without your mortgage broker, you'll want to ensure that you consider additional expenses on top of the basic mortgage costs. Discuss any additional mortgage insurance costs with your broker, as well as expenses such as maintenance fees and property taxes. Each of these aspects should come together to help you ascertain what you can reasonably afford, and, when considering these additional factors, your actual home budget may be tightened. Therefore, be sure not to forget the extras!
Have Foresight: Consider Closing Costs From the Start
Since your down payment amount on your mortgage for Parkland County real estate can significantly affect your monthly mortgage costs, you'll want to ensure that you consider the amount of closing costs well before you get to that point in your real estate transaction. A possible problem arises when these costs aren't factored into the equation from the start, and the buyer has to pull away from his down payment lump sum to come up with the money, thereby increasing his monthly expenses and perhaps overextending him financially. Therefore, ensure you are well prepared for the closing costs on your Stony Plain real estate, and get the figures from your mortgage broker or REALTOR® at the start.
As long as you've done your research on the matter, and factored in all of the aspects of your income and monthly expenses, as well as the additional fees of the real estate transaction itself, you will surely arrive at a number that is reasonable and affordable. Get your expert advice, do your research, and have foresight, and you should be in great shape!
If you're still unsure, I am always willing to answer your Edmonton area real estate transaction questions! Call or text me at 780-910-9669, email me at barry@barryt.ca, or contact me here.