House Hunting Tips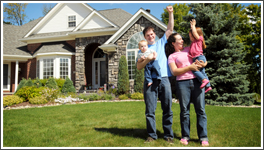 Whether you are seriously in the market to buy a house in Spruce Grove, Stony Plain, Parkland County or the Edmonton region, or just like to look at pictures and dream, you might find an article about the HGTV show House Hunters informative and entertaining.  
"HGTV show inspires tips for real-life seekers" (published in the July 28, 2012 edition of the Edmonton Journal, and other newspapers, as well as online) is a tongue-in-cheek commentary by columnist Mary Beth Breckenridge about her addiction to the TV show House Hunters, in which she notes that buyers seem to toss their common sense when viewing property for sale.  Here is what she advises would-be home purchasers:
"-Granite countertops do not make a kitchen. Yes, they're lovely, but maybe you should open the drawers to make sure they don't require the kind of force that dislocates elbows, and turn on the faucet to verify that the water flows in more than a trickle.  Oh, and by the way, there are other kinds of countertops. Very nice ones, in fact.
– Location, location, location. It didn't become a real-estate cliché without good reason. You can replace carpet and reconfigure rooms, but that freeway noise? You're stuck with it.
– For the love of God, price a couple of cans of paint before you reject a house over the blue in the baby's room.
– You might want to think twice about going right from an efficiency apartment to a McMansion. Furniture costs money, you know.
– Five bedrooms for two people? Really?
– Two-storey great rooms look dramatic, but check the heating bills if you live in Minnesota.
– Don't give the yard short shrift. It takes hours to knock down a wall but years to grow a tree.
– After a few months of two-hour commutes, you're going to kick yourself for choosing the sparkly new Colonial on the outer reaches of exurbia over the fixer-upper 10 minutes from your job. Even if it does have hardwood floors and stainless steel appliances.
– And remember what I said about countertops? Ditto appliances." 
So, what do you go for when you're searching for new digs?  Are you one of those people who falls for something shiny, or can you look beyond what's pretty (or, for that matter, what's not so pretty) to find what's practical?  Home stagers exist for a reason, and it's the wise buyer who is able to resist their tricks!  Learn to distinguish what you absolutely must have from what would be nice to have.  Separate things that can be changed (paint color, counter tops, appliances, other decorative items) from those that can't (street on which the home is built, its orientation on the property, other permanent construction details).  Do this and you're sure to find the right home that you'll be happy to live in for a long time.   (See also my blog article from April 5, 2012 entitled "That Perfect House".)
Still a little confused about what to look for?  Let me help you.  Call or text me at 780-910-9669, email me at barry@barryt.ca, or contact me here.
Tags: home buying, house hunting, interior decorating, property features