Carpet or Hardwood?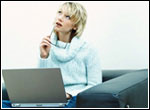 If you are thinking of replacing the flooring in your Spruce Grove, Stony Plain, Parkland County or Edmonton area home, you're not alone!  Should you make the leap from your old wall-to-wall broadloom to the currently popular hardwood?  Should you replace all the carpeting or keep some in selected areas of your home?  Here are some points that might help you decide.
Carpet Pros
Warm, comfortable and insulating

Sound-absorbing (might therefore be a better choice in high-density living situations such as condos and the like)

Easier on the feet

Often less expensive to purchase, and easier, faster and cheaper to install

Can be installed anywhere in the home.

Many choices in colors, textures, fabrics
Carpet Cons
Feels "dated" to many people.  Home buyers today are looking for modern finishing.

Carpet is seen as negative to indoor air quality.  Even frequent vacuuming doesn't remove dust, dander, allergens. 

Professional carpet cleaning and shampooing can be expensive and disruptive.

Standard life is about 12 years before replacement needed.

Generally less accessible for wheelchairs and walkers, if aging in place or disabled family members are a consideration.
Hardwood Pros
Hard-surface flooring is currently popular and trendy.  Current thinking is that hardwood adds character and value to a home.  Seen as better for re-sale. 

Good for the planet:  wood is natural, sustainable, renewable.

When properly chosen, installed and maintained, will last a lifetime

Easily cleaned and maintained with vacuum and dust mop.  With felt protectors on the bottom of furniture pieces, easy for one person to move furniture for cleaning.

Excellent for those with allergies

Versatile decorative option; goes with everything.

Can be used "as is" or with an area rug on top to change the decorating or to add warmth and sound-absorption

Future flexibility: easy to install carpet or tile on top of hardwood (although why on earth would you?!)
Hardwood Cons
Noisy; not sound-deadening like carpet so sounds may echo.

Chilly on the feet, especially in winter.

New finishes do make hardwood more resistant to damage but not indestructible.  Care will still be required to prevent damage from dropped and dragged items, as well as from spilled liquids.  Most hardwoods can be re-finished and cost is comparable to replacing a carpet, but re-finishing usually takes longer than a carpet replacement.

Humidity levels need to be closely monitored.  In high humidity, improperly installed wood can expand and buckle.  Low humidity can result in splintering and breakage.

Can be expensive to purchase and install, especially if sub-floor required.

Can be slippery and therefore less safe for small children and seniors

Shows dirt readily.  Needs to be cleaned (vacuumed or swept and mopped) more often than carpet; at least every other day in high-use areas

May not be suitable for below-grade installation
A good article that compares the characteristics of carpet and hardwood is "Carpet vs. Hardwood – The Great Showdown". 
A few other things to consider:
Many people are mixing up their flooring choices:  tile in kitchens and bathrooms for durability and ease of cleaning, hardwood in main-floor living areas for beauty, carpet in bedrooms for comfort.

Think about your lifestyle and how you use the spaces in your home.  Are shoes removed at the door, food consumed only in non-carpeted areas, pets house-trained?  If no, then carpets, which tend to get dirty faster and hold on to the dirt, might not be the best option for you.  Highly visible, high-traffic areas benefit from flooring that is durable and easy to clean and maintain.

Consider the kind of feel you want underfoot:  firm, glossy, sophisticated, or cozy, casual, barefoot-friendly.

When you replace the flooring, do it for your own use and pleasure but keep in mind that eventually you will leave your home.  Be aware that every change you make to your home will have an impact on its ultimate resale value and ease of selling, even if that sale is years in the future.
Let me help!  Call or text me at 780-910-9669, email me at barry@barryt.ca, or contact me here.
Tags: home improvement, Home Renovations, interior decorating, property features