Leaner, Cleaner — and Sold!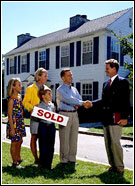 Some time ago I had a house listed in the Spruce Grove, Stony Plain, Parkland County and Edmonton region whose owners were enthusiastic antique collectors.  Every room in their home was filled with furniture, knick-knacks and treasures from multiple eras and design influences.  Nothing really matched, nor was there a unifying theme tying things together.  The overall effect was of too much miscellaneous stuff crammed into too little space.  This is exactly the impression a seller does not want to give a potential buyer! 
Getting this place sold needed the removal of large numbers of objects so as to showcase the space rather than the possessions in the space.  Items not removed were those essential for daily living that were both nice to look at and anonymous.  Many sellers learn the hard way that living in a home is very different from selling a house, and items cherished by the sellers may actually deter potential buyers from making an offer.
Ask yourself what you are selling.  If it's the house and not the stuff in it, how can you show off the house to its best advantage?  You can do this by staging your home to make it look as spacious, clean, tidy and organized, fresh and up-to-date, attractive and functional as possible.  Did I mention spacious?!
Please read my other articles on home staging:  "Home Staging Starts with De-cluttering"  and "Be Your Own Home Stager"  Let's assume that you've already thrown away the trash, sold or given away unneeded or unwanted items, and packed up stuff you're not currently using (e.g. winter equipment and clothing if it's summer) but which you'll be taking with you when you leave your current home.  What else needs to go before you put your home on the market? 
"Identity" items: 
All items with your name on them:  utility bills, diplomas, certificates and awards, sports jerseys, personal documents such as passports, medications, etc.
All family pictures
All collections:  spoons, ball caps, dolls, model cars, sports memorabilia, coins, cookbooks, DVDs, etc., as well as valuables such as jewelry.
All ethnic, cultural and religious items
All evidence of hunting:  guns, clothing, stuffed game, antlers, etc.
All work-related items, such as computer or office-related binders, books and manuals, cords, CDs, phone books, etc.
 Any items that might distract or offend potential buyers, such as smoking materials, pet paraphernalia, lewd artwork and the like
Stuff in general: 
Dated and dusty decorative items, such as old dried flower arrangements
All broken items, and things you've been "saving"
All excess furniture and accessories in every room.  Don't forget outbuildings and outdoor spaces as well.  Keep just the essentials, and set up each room or space according to its intended purpose.  This may mean turning an office back into a bedroom while your home is on the market.
All extra items from porches, decks and entryways (such as loose pieces of carpet, boot racks and the like), and all items from stairwells and hallways.
Large appliances, like a freezer or extra fridge, that won't be sold with the house
All items off window ledges, and open the window coverings
All old paint, chemicals and hazardous waste, as well as renovation and building materials that are not relevant to the house's current upgrades
Tips for Specific areas
Shelves:
Remove everything.  Replace just a few display items, leaving lots of space between them:  some hardcover books with attractive covers, a couple of unusual knick-knacks, neutral photos such as landscapes, small plants
Closets:
Remove about 75% of closet contents, keeping just the items you absolutely have to have while your home is on the market!  Leave as much space between items on hangers as possible, and clear closet shelves and floors as much as possible.  Arrange everything neatly.
Other storage spaces:
Stockpiles of everything have to go from basement storage areas, garage, storage shed and the like.  Keep only the items you need to maintain yourself and the home while it is on the market.  For example, if it's summer, you'll need lawn mowing and gardening tools but not winter items like snow shovels and brushes.  Pack up the tools, hobby items, sports gear, etc.
Kids' rooms:
Remove all but your children's favorite toys, clothing they will be wearing on a day to day basis, and necessary equipment (e.g. changing table and related items for infants).
Remove all stickers and posters from walls and doors

Kitchen:
All items off the tops of cabinets and the fridge, including magnets, children's artwork, calendars, etc.
Everything off kitchen counters except bare necessities, such as coffee pot, kettle and toaster.
Purge plastic container collection.
Pack up all extra cookware, dishes, utensils, specialty items you won't be using while your home is on the market.
Reduce stored food items as much as possible so that cupboards and pantry appear as spacious as possible.
Knives off counters and stored under a cabinet (for safety).
Clean out all cabinets and drawers and replace only the essentials in a tidy and organized fashion.
Bathrooms:
Out with all old and half-used toiletries.
Bare minimum of personal care products, in attractive containers, if possible.  However, do NOT leave out in view things like razors, hairbrushes, toothbrushes, medications and the like.
Reduce quantity of cleaning products to just what needs to be used on a daily basis.
Clear out cabinets; put back only essential items.
Laundry area:
Clear off all shelves and leave only items you have to have.  Nothing on the floor!
Home exterior:
During this process, you'll probably come to realize that:
Potential buyers will be looking everywhere in your home.
It will take time and energy to repair, clean, de-clutter, de-personalize and stage your home so it looks spotless, spacious and inviting.
You may have to rent space in a storage facility to store your belongings.
It's going to be a little painful to have to camp in your own home for the period of time before your home is sold and you move out completely.
But I hope you'll believe me when I tell you:
The focus will no longer be on the home you've created and your stuff, but the space, the flooring, upgrades, fresh paint, the yard, and all the other features that buyers are looking for.
By clearing out the clutter and packing up as much as possible before your home goes on the market, you will have much less to do when it comes time to move to your new home.
Your home WILL sell faster and it WILL earn you more money – in some cases, 1000s of dollars more.
You may even find that you can get along just fine without so much stuff!
Remember the phrase from the movie Field of Dreams "Build it and they will come"?  Stage your house so it becomes a Home of Dreams and the buyers will come!
Comments or questions about this article?  Call or text me at 780-910-9669, email me at barry@barryt.ca, or contact me here.
Tags: de-cluttering, home selling, home staging, Tips For Home Sellers