Wednesday, March 12th, 2014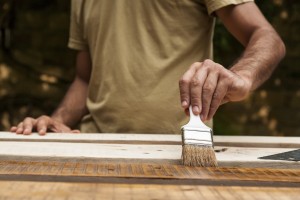 So, you've just moved into your new home in Spruce Grove, Stony Plain, Parkland County or the Edmonton region and you've decided the best way to enjoy all of that lush scenery is to build a new deck. In fact, you've decided to build the deck yourself. This might seem like a lot of hard work at first, but building your own deck can be a pretty simple job with the right plan of action.
Pick a Design
The amount of work you'll need to do all depends on the style of deck you want. If you're strapped for ideas or you're having trouble trying to visualize your dream deck, try using the deck plans simulator at deckplans.com. Once you've settled on a design, you'll need to figure out what size the deck will be. If your deck is free standing, you'll have complete flexibility when it comes to the shape and size. If you plan on building a deck that sits against your house, you'll have to be aware of wall lengths, shrubbery, and other obstacles the might limit the space available for the deck.
Order Your Materials
The best part about using a deck plans simulator is that most will assemble a materials list for you, but be sure to order extra parts just in case. Here's a brief overview of those materials:
– 2×6 planks treated lumber
– 4×4 or 4×6 treated lumber
– deck screws
– joist hangers
– block piers or concrete and pier tubes
– J bolts or anchor bolts
– mason's string
– carriage bolts
You'll also need to pick up a few tools:
– water level
– measuring tape
– circular saw
– sand paper
– hammer
– shovel
– safety clothing (goggles, gloves, etc.)
– hammer drill (you might not need this depending on what bolt system you use for the posts)
Building a Deck: The Basics
Step 1: Lay out the frame for the deck with string and put down markers for where the support posts will go.
Step 2: Dig holes for the concrete piers. Keep in mind the desired height of your deck.
Step 3: Pour your concrete for the piers if you're making your own, and place the J-bolts in the centre of each. Leave them to dry. If you're using block piers, place the blocks and prep each for an anchor bolt with the hammer drill.
Step 4: Place the piers. Use a level throughout the process to make you don't end up with a wonky deck.  Secure your posts to the piers and make sure they sit at the right height.
Step 5: Use carriage bolts and lumber to build the border. Place joists along the flat side of the lumber to secure the support planks that run underneath the floor planks.
Step 6: Lay down the floorboards by hammering them into the support planks.
Step 7: Use sand paper to smooth down any chips or split wood. You'll also need to go over any areas you sand down with a deck sealant for waterproofing.
Building your own deck doesn't have to be hard. A basic deck can be built in as little time as a few afternoons. A deck can be a beautiful addition that raises the value of Spruce Grove real estate, Stony Plain real estate, Parkland County real estate, or Edmonton real estate. Homes in Parkland County acreages and Edmonton acreages offer a spectacular view, so why not enjoy it on your very own deck?
P.S.  Before you do any of the above, check with the local municipality about whether you'll need a building permit for your deck!
Have questions about owning a home in these areas? Call or text me at 780-910-9669, email me at barry@barryt.ca, or contact me here.