Wednesday, March 26th, 2014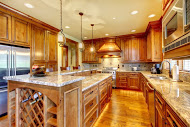 Most people dream of a spacious kitchen where they can cook with friends and throw the finest of dinner parties, but not everyone can have the ideal cooking space. Big houses are often fitted with an island and plenty of cupboard space but life in a small home or an apartment often comes with a much smaller kitchen. If your house in Spruce Grove, Stony Plain, Parkland County and the Edmonton region is a little bit too cozy, here are a few simple ways that you can find a bit more space without having to find a new place.
Purchase a Rolling Cart
One of the biggest parts of cooking comfortably in your kitchen is having the stretch-out space for preparation so that you can do all of the things that go into making a fancy meal at once. If counter space is at a premium, you might want to consider a roll away cart that you can use for those moments when you're really in need of little more room in the kitchen. Whether you use it once in a while or every single day, a stylish cart is a great way to maximize space.  When the evening is over, the cart can simply be rolled away.
Get Creative with Your Storage
If you have a small kitchen, you've probably kept your pantry items to a minimum and scaled back your cooking accessories, but there are other means of storage besides the shelves. Instead, think about installing hooks or small racks above your counter so you can use your wall space for storage. You might even want to consider purchasing items that have magnets, or a knife rack that you can attach to your kitchen cupboard to avoid using the space a butcher block takes up.
Consider Installing a Lazy Susan
The biggest grievance associated with an undersized kitchen can sometimes be the massive storage space that is lost to the corner cabinet. Instead of having to push all of your kitchen items to the back of the cabinet where you'll likely never use them again, consider a Lazy Susan. Whenever you need an item, you can simply spin the shelf instead of having to reach way in the back in the hopes of finding what you're looking for.
Think of Your Dishware as an Accessory
It might seem like you should store all of your kitchen items in the kitchen, but there's no reason you can't get creative about things. If you have any side cabinets or closets where you can store less used items, like fancy dishware or a popcorn maker, you might want to place them there instead. You might even want to consider dressing up nearby cabinets or shelves with nice glassware or dishware so your fine items can reside somewhere outside of the kitchen!
If you've purchased Parkland County or Spruce Grove or Stony Plain real estate and you're working with a cozy kitchen, it might seem like it's cramping your style. However, simple measures like looking at your storage options and purchasing a roll away cart can make cooking a little bit simpler.
If you happen to have any home-related questions, I'm always happy to help! Call or text me at 780-910-9669, email me at barry@barryt.ca, or contact me here.