4 Tips to Sell Your Home in Any Market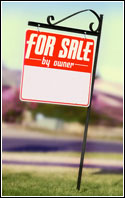 Are we in a "buyer's market" yet in the Spruce Grove, Stony Plain, Parkland County and Edmonton region? Well, sort of. Buyers won't find super bargain prices this fall, but they will find many more homes on the market and this means greater choice for them. Not such good news if you're looking to sell your home right now.
As a seller, what are the things that will get your property sold, even against lots of competition?
1. Get your home noticed in today's world.
List with a REALTOR® who knows the local market and will get your property "out there". These days it isn't enough to hammer a "For Sale" sign on the front lawn and post the occasional ad in the local newspaper. In my office, for example, we work hard to ensure that my online presence will get your home seen. You'll find your listing on my website, on Realtor.ca and MLS, on a virtual tour website and blogs, on Facebook, Pinterest, LinkedIn, Google+, Kijiji, and many others.
2. Set a realistic asking price.
Take the advice of your realtor in pricing your property appropriately. Remember that realtors do property evaluations all the time and are very aware of what is selling and for how much. We want to help you get as much for your property as possible. Think about those last two words. Sometimes it just isn't possible to find a buyer who will see as much value in your property as you do, and unfortunately, a property is only worth as much as a buyer is willing to pay for it. Overpricing is probably the single biggest reason homes languish on the market, and this leads to a dismal spiral that goes like this: House priced too high ► potential buyers pass it by ► house sits on the market for far too long ► price is reduced (sometimes several times) ► potential buyers think there is more wrong with the house than a price that's too high ► disappointed sellers eventually sell for a lower price than they would have received if the house had been priced right to begin with.
3. Make your home shine and stand out from the competition.
Look at your home through the objective eyes of a prospective buyer who wants to move right into a home that is clean and well-maintained. Then get busy, clean your home thoroughly, and attend to all the little repairs and fix-ups your house needs. Now is not the time to undertake major and expensive renovations that you won't get to enjoy, but it is certainly the time to replace burnt-out light bulbs, repair broken windows, fix drippy faucets and squeaky hinges, touch up chipped paint, tidy up the yard, etc. etc. etc.!
I have written extensively in the past about the sorts of repairs, upgrades, staging and curb appeal that will sell your home without breaking the bank. Take a look especially at the starred* articles below.
Boost the Value of Your Home With Strategic Updates
Let There Be Light: Enhance Your Home's Look and Boost Its Resale Value With These Home Lighting Tips
Selling Your House in Spring: Tips That Will Boost Your Home's Appeal
Selling Your House in the Fall
*Leaner, Cleaner – and Sold!
Drive-by Delight or Disaster?
Use Good "Sense" to Sell Your Home!
*Be Your Own Home Stager
Thinking of Selling Your Home in Spruce Grove, Stony Plain or Parkland County?
Home Staging Starts With De-cluttering
*10 Things I Hate About Your House!
4. Accommodate all viewings from prospective buyers.
Having a constant parade of visitors through your home is stressful if you and your family are still living there. Keeping the place pristine for the lookers while packing for your move and maintaining as normal a family routine as possible is a hard juggling act. But buyers won't make offers if they can't get in to see the place so set as few conditions on showings as you can. Be readily available when an offer comes in.
There are many things you can't control when selling your home, such as its location on a busy corner, or the size of the lot, or its floor plan, or the weather! But if your home is clean and well-maintained, priced right, advertised wherever it can be, and shown to all people who express an interest in it, it will sell.
If you have a property to sell this fall, let's talk! Call or text me at 780-910-9669, email me at barry@barryt.ca, or contact me here.